Basque Pelota Supporters Gather in San Francisco
Basque handball supporters gathered Thursday Dec. 10 at a chic San Francisco restaurant for a fundraising event for the United States Federation of Pelota.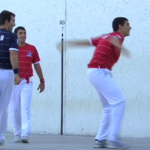 The gathering was held at Piperade restaurant, owned by renowned Basque chef and author Gerald Hirigoyen. Guests enjoyed sumptuous cuisine such as Serrano jam, stuffed peppers and assorted cheeses, as well as several fine wines.
Xabier Berrueta, president of the federation, talked about the group's strategy for increasing the popularity of the sport.
The federation is trying to grow the sport's base by reaching out to women and Latino communities in the Southwest, where various forms of handball have been played or years. Berrueta also has consulted with officials in Gardnerville, Nevada, about building a fronton, or court, that can be used for pelota and other activities.
"Last night was just a taste of some of the activities we will plan for in 2010 to facilitate the awareness for the need to promote and develop pelota/pilota in the United States," Berrueta told Euskal Kazeta.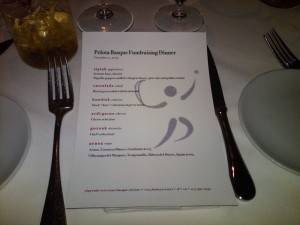 He noted that it was no coincidence that the fundraiser was held at Piperade. Hirigoyen has long been a supporter of handball, which was popularized across the West in the 19th and 20th centuries by Basque immigrants who brought the game from the Basque Country.
"We want to thank Chef Gerald Hirigoyen and his fabulous staff for offering their great facility," Berrueta said.
The federation, a nonprofit organization based out of San Francisco, is the official governing body of amateur Basque pelota in the United States. Anyone wishing to help the federation can contact Berrueta.
Previous Euskal Kazeta handball articles and videos:
Popularizing Basque Handball
NABO 2009 Pelota Championships
Memories of Handball at Noriega Hotel
NABO Women in Argentina Pelota Tourney
Basque Handball Players in Action