Basque Sailors Navigate Historic Fishing Routes
Five Basque sailors have been on an expedition retracing historic routes in Greenland and Canada that were traveled by Basque mariners nearly six centuries ago.
The crew of the 20-meter sailboat Pakea Bizkaia left the Basque Country in late May and headed west for ports in Greenland and Newfoundland and Labrador.
Beginning in the 16th century, Basque whale and cod fisherman set sail from ports in Bizkaia and braved the treacherous waters of the Atlantic Ocean to reach North America.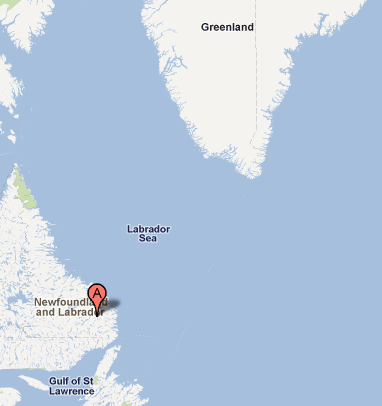 Pakea Bizkaia Captain Unai Basurko has been blogging in Spanish about the expedition for the past three months as the crew has navigated more than 7,400 miles. In a recent post, Basurko wrote that the crew is on the return leg of the journey, bound for the Azores Islands.
Related Euskal Kazeta Report:
Basque Researchers Sail on Scientific Voyage
The crew is also posting updates on the Pakea Bizkaia Twitter account and has a website in English, Euskera and Spanish, where you can learn more about crew members and the voyage. Click on the following link for the Pakea Bizkaia web page.
Crew members have shot extensive video footage, which will be made into a documentary film to teach children in the Basque Country about Basque mariners who explored Canada and Greenland.
"It's going to be really interesting working with the children when they come with their teachers, because we don't study this part of our history in the schools," Andrea Ruiz, the team's education and website co-ordinator, told the Telegraph news organization.
While in the Gulf of St. Lawrence, the crew visited Red Bay, home of several historic Basque whaling stations.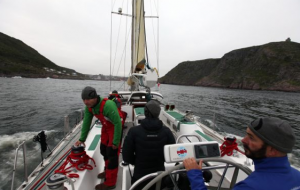 The Basques first landed in Red Bay in the 1520s, while fishing for cod in area waters. While in the region, the sailors focused their attention on hunting whales, according to research posted by the University of Newfoundland.
Between 1530 and 1600, the research noted, Basques launched at least 15 whaling vessels and 600 men a season who hunted in the Red Bay region.
The Pakea Bizkaia crew also visited the town of Placentia, another site visited by Basque fishermen nearly 500 years ago. Basque headstones at the city's Anglican Cemetery mark the final resting place of some of those early mariners who stayed behind.
The crew members were welcomed by residents and the Placentia mayor, who said he hoped that the visit would strengthen ties between his community and people in the Basque Country, according to a report by the local Charter News organization.