Recipe for Basque-Style Peppers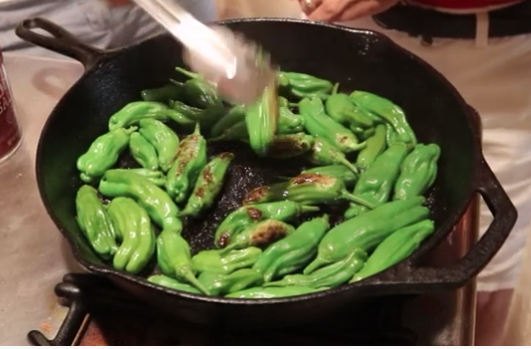 The Basques love peppers (piperrak or biperrak) and use many different kinds of peppers in their cooking. Some of the most common Basque Country peppers are not available in the United States.
One of the favorites is the Gernika pepper. This small green pepper which is sweet, comes mostly from Bizkaia. It is similar to the shishito pepper you can commonly find in the U.S.  Here we have a very easy-to-make recipe for serving these peppers.
Roasted Basque Peppers
1/2 – 1 lb. shishito peppers (or Gernika peppers if you can find them or grow them)
3- 4 tbsp. course salt, such as himalayan salt
olive oil
half a lemon
Pour a very light layer of olive oil in a frying pan, then sprinkle a layer of kosher or other coarse salt on top. Let oil heat up on medium high heat. Then cover with a layer of the peppers. You will start hearing lots of pops and crackles. The peppers will start roasting on the bottom. Cover for a few minutes. They will start to get blackened spots.
Turn over the peppers individually until all have been turned over. Let cook another 2-3 minutes, then sprinkle lightly with more salt on top and squeeze a lemon over the top. Put on a plate and serve.
More about Peppers
To learn more about other Basque Country peppers, see this lengthy blogpost, which talks about Piment d'Anglet (also Doux des Landes) and Piment d'Espelette, which come from Lapurdi, Guindillas Tolosa, a hot pepper from Gipuzkoa, Piquillo Lodosa and Goat Horn from Nafarroa.
Peppers are not native to the Basque Country. They were brought over to Europe from the Americas in the 16th century. Since then, however, the Basques have developed their own specific strains of peppers that include spicy and sweet peppers. Peppers provide healthy doses of Vitamin C.
**Disclosure: links below are affiliate links which means at no additional costs to you, we earn a commission if you click through and make a purchase. These are all products that we recommend.
Some different varieties of pepper seeds are available from Amazon:
Piment d'Espelette Pepper Seeds
MORE EUSKAL KAZETA RECIPES:
Favorite Basque Recipes
Chef Gerald Hirigoyen's Piperade recipe from his book, "Pintxos"
Burnt Basque Cheesecake
EK's Basque Bean Recipes
EK's Quick and Easy Paella
EK's Porrusalda and other Basque Soups
Tortilla de Patatas (Potato Omelette)
Basque-Style Peppers
EK"s Basque Vegetable Soup Recipe