Berri Txarrak, popular hard rock band, heading to U.S.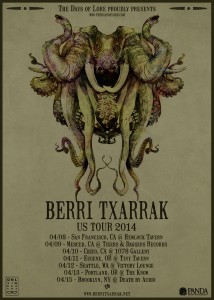 Berri Txarrak, the extremely popular alternative rock band, is heading to the U.S. in April.

Their USA Tour 2014 will focus on the West Coast, with concerts in San Francisco, Portland and Seattle. However, they will end the tour with a special gig in Brooklyn, with The Naked Heroes of New York City.
They'll also make stops in the smaller California and Oregon towns of Merced, Chico and Eugene.
CALENDAR
Monday, April 7 Sidelines Bar, Sparks, Nev.
Tuesday, April 8, Hemlock Tavern, San Francisco, Calif. – $6
Wednesday, April 9, Tigers & Daggers Records, Merced, Calif.
Thursday, April 10, 1078 Gallery, Chico, Calif.
Friday, April 11, Tiny Tavern, Eugene, Ore.
Saturday, April 12, Victory Lounge, Seattle, Wash.
Sunday, April 13, The Know, Portland, Ore.
Tuesday, April 15, Death by Audio, New York City
Berri Txarrak was in California for several months in 2011, recording their latest album "Haria," with record producer Ross Robinson. Robinson discovered several big name hard-rock groups such as Korn, Limp Bizkit, and At the Drive-In.
Singer and group leader Gorka Urbizu plays guitar, while David Gonzalez plays bass and Galder Izagirre plays the drums. They are headquartered in Lekunberri, Nafarroa, Urbizu's hometown, although in recent years they've spent much of their time abroad.
The hard-rock group, which has 47,000 fans on Facebook, attracts huge audiences in the Basque Country, selling out most of their concerts.

RELATED EUSKAL KAZETA REPORTS
Berri Txarrak records album in Venice
Berri Txarrak's L.A. listening party