Festival in the Port of Donostia
Hundreds of people descended on the Port of Donostia Saturday.
The feast of the port's patron saint, Karmengo Jaiak, was celebrated in this picturesque seaside city from July 14 – 17, with a greased ship's mast competition and bands marching through the streets, accompanied by gigantes and cabezudos (giants and big heads).
Starting on the 14th, small peñas, or bands, played traditional Basque music with trumpets, saxophones and cymbals, as they marched through the streets of "la parte vieja" or old town, in Donostia. Giants in traditional costumes led the small parades, while cabezudos chased people and hit them with their balloons – actually hogs' bladders filled with air.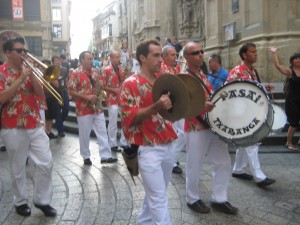 The highlight of the festival was probably Saturday's competition to grab the ikurriña on the end of a greased ship's mast. The mast was held horizontally over the water at the port, as mostly young men and a few women were brave enough to try to grab the Basque flag. Dozens slipped off the wooden pole into the water, while others dove in around them to cool off. Hundreds of spectators lined the wharf to watch, while others sat in boats that rowed in close for the fun.
Finally, local girl Inge Fernandez, 22, made it to the end and grabbed the flag before she slipped in the water.
"She's from the wharf," announced her friends proudly, as Fernandez climbed the stairs out of the water with her flag.
Later in the plaza near the wharf, the crowd was invited to join in traditional Basque dances, while at tables nearby people ate a dinner of grilled anchovies.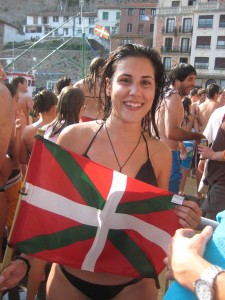 Las fiestas, les fêtes or jaiak – are an annual tradition even in the smallest towns in the Basque Country. Basques frequently return to their families' hometowns for the annual festival.
Typically, the festivals are scheduled during the summer months and named after the town's patron saint. Karmengo Jaiak are named for Our Lady of Mt. Carmel. The most famous festival of the Basque Country, the San Fermines, on July 6 – 14 are named for San Fermin, the patron saint of Iruñea, or Pamplona, in the province of Navarra.

EUSKAL KAZETA RELATED STORIES
Summer Festivals in the Basque Country