Free Apps for San Fermin Festival
Attending the famed San Fermin Festival in the Basque Country?
If so, you can download a free iTunes app with all the information for this year's festival. The San Fermin app by kukuxumusu.com features useful information such as an easy-to-use daily schedule and emergency phone numbers, plus it also explains traditions such as the running with the bulls and the "Txupinazo," or fireworks rocket that kicks off the partying during the week-long extravaganza in Pamplona. The festival runs from July 6 to July 14.
Download a similar free Android San Fermin app by Geo Action.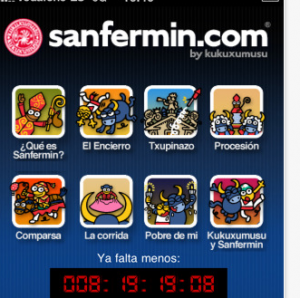 RELATED EUSKAL KAZETA REPORTS:
Download Free Basque Language App
Learn Basic Basque Phrases Online
San Fermin is a wild party that lures thrill-seekers and others from all over world, a number of whom come to run with the bulls through the city's historic streets. The daily runs are a throwback to medieval times when herders ran their through the streets of city to get to the bull rings.