Isabel Uses Recipes to Help her Learn Basque
Euskal Kazeta is following Isabel Zialcita regularly on her challenging journey to learn the language of her ancestors.
Isabel is a Basque Filipina living in Los Angeles, studying international relations.
Isabel has been studying Euskera, or Basque, for the past few months, using the BOGA method developed by the Basque government.
Recently, she decided to buy some Basque cookbooks: The Basque Table by Teresa Barrenechea and the bilingual Cocina Vasca/Basque Cookery by Juan de Echevarria.
"I sometimes use recipes on Basque cuisine to learn vocabulary words," said Zialcita.
"I'm quite fascinated by Basque cooking, even more so after having two fantastic lunches at a Basque restaurant (in Chino, Calif.) called Centro Basco, so I've decided that I want to try and learn to cook as many Basque dishes as I can," said Zialcita in her article.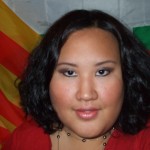 To read more about one of the Basque recipes she tried — intxaursaltsa, or walnut puree — and the vocabulary words she learned, click here.
To read Euskal Kazeta's first article on Isabel Zialcita's background and her decision to learn Euskera, click here