Julia Roberts in San Sebastian
Last year it was Brad Pitt. This year it's Julia Roberts.
The San Sebastian Film Festival, now in its 58th year, is one of the most popular international film festivals, attracting well-established stars and up-and-coming moviemakers. A large part of the attraction is the beautiful setting in this Basque coastal city with its historic buildings and picturesque waterfront Paseo de la Concha.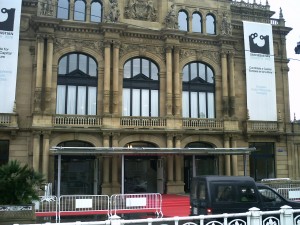 Actor Brad Pitt and director Quentin Tarantino hit the seaside town for last year's festival to promote their film "Inglourious Bastards." This year, Julia Roberts attended to pick up the festival's Lifetime Achievement Award — the "Premio Donosti." Her co-star, Oscar winner and Spanish actor Javier Bardem, joined her to hype their latest film "Eat, Pray, Love."
Actor Diego Luna was going to present his directorial debut, "Abel," starring John Malkovich. Eighteen films were to be shown during the festival which ends Saturday.
Euskal Kazeta's article: International Film Festival in Donosti, Sept. 22, 2009