Picasso's 'Guernica' Undergoes Robotic Checkup
Pablo Picasso's iconic "Guernica" is undergoing a robotic health check as the renowned painting marks its 75th anniversary.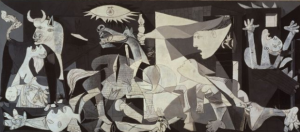 A specialized machine that relies on infrared and ultraviolet photography is taking thousands of microscopic shots of the oil-on-canvass masterpiece.
Dubbed "Pablito," the robotic mechanism is scanning the painting each Tuesday when the Reina Sofia Museum in Madrid, which houses the work, is closed to the public, according to media reports.
The machine will allow museum officials to detect scratches, bubbles and other damage not readily visible.
The acclaimed work of art, depicting tormented human and animal figures, was inspired by the destruction of the historic Basque town of Guernica.
Guernica was leveled on April 26, 1937, in a blitzkrieg attack by the Condor Legion of the Nazi Luftwaffe during the Spanish Civil War. Casualty figures have varied over the years. The Basque government has said that more than 1,600 people were killed.
The savage assault, which involved multiple bombing runs, horrified the world and prompted Picasso to create his antiwar masterpiece.