Prehistoric Paintings Found in Basque Village (Updated 5-15-11)
Archeologists have made an interesting discovery of prehistoric art in the Basque Country dating back about 25,000 years.
Paintings depicting horses were uncovered in a cave in in the northern Basque province of Bizkaia.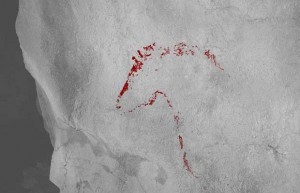 The red paintings were found in the Askondo Cave near the village of Manaria, officials said. The site was uncovered as the archeologists were exploring for signs of ancient settlements in the region.
For more information, see the article in the Montreal Gazette.
(Updated May 5, 2011) National Geographic has also written a story on the cave painting discovery.