Singer Michel Etcheverry Visits California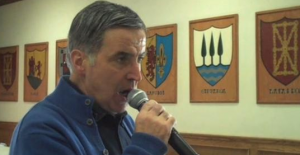 Michel Etcheverry, a popular singer from the Basque Country, is visiting California for performances in South San Francisco and Chino.
It is his 14th visit to the United States, where he has developed a cadre of friends in the Basque community over the years. His late brother Jean Pierre Etcheverry was chaplain to the U.S. Basque community during the 1980s.
On a recent afternoon, as he and his group rehearsed for their Chino performance, Etcheverry fondly remembered his first visit to the U.S. It was in May 1976, when he sang at four different Basque picnics, including Los Banos and Fresno. He was accompanied by the late accordionist Louis Beheretche.
"At the beginning, I sang just in Basque," the talented singer said in an interview with Euskal Kazeta.
Now he sings in French, Spanish and Basque and has produced 21 albums during a career spanning more than three decades.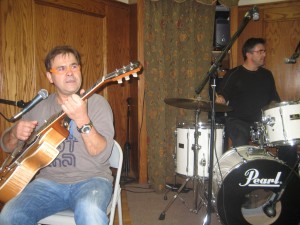 Etcheverry played to a sold-out crowd of 300 people at the New Year's Eve Gala at the Basque Cultural Center in South San Francisco on Dec. 31. He then traveled to Chino, where he sang for a more casual afternoon performance on Jan. 3. They will return to the Cultural Center on Sunday, Jan. 10, for another performance after the annual members luncheon.
Etcheverry was accompanied by three of
his five musicians, the young Alexandre Laborde on the accordion, Jacques
Ansoud on the guitar and Raymond Etchemendibehuere on the drums. Laborde, 23, who has been playing since he was 8 years old, joined Etcheverry's band two years ago. He said he was thrilled to make his first trip to the United States.
Etcheverry sings quite a few songs of the late Spanish Basque tenor Luis Mariano. His repertoire for his U.S. concerts included many songs from yesteryear, including Mariano's.
"Those are the songs they know, from 40 years ago, the ones they heard before they left," he said, referring to his followers from the older immigrant generation.
Etcheverry has had a storied career, having played professional handball for many years. He was the champion of France four times, and world handball champion twice. In fact, three of his visits to the U.S. were to play handball in the Basque community. He began singing full-time in 1986.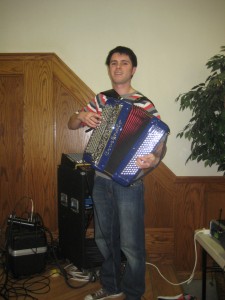 Etcheverry and his band members were staying in the Chino area with two Basque families and were planning a trip to Las Vegas before they head back to Europe the week of Jan. 11. At 61, Etcheverry is fit and still going strong. "I walk a lot," he said.
His visits to California, Etcheverry notes, inspired material for his next project. He's planning another album when he returns to his hometown of Anglet, on the Atlantic coast of the French Basque Country.
"It's going to include a song called "Californie," he says of the album.
Final concert: Sunday, Jan. 10
Basque Cultural Center
599 Railroad Ave.
South San Francisco
For information, call Anita Arduain at (650) 583-7018
Related:
Video of Michel Etcheverry rehearsing before his Chino performance.
To see Michel Etcheverry's website, click here.