Team USA Pelota Players Lose Matches But Stay in Medal Hunt at Pan Am Games
Roger Etchevers and Roberto Huarte lost tough contests against two of the top handball athletes in the world Monday morning at the 2011 Pan American Games, but both Team USA players still remain in the medal hunt at the international competition in Guadalajara Mexico.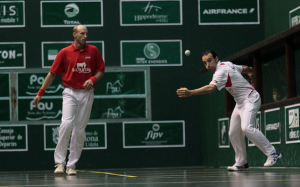 Etchevers, a native of Pomona, California, who now lives in Basque town of Irissari, lost to reigning world champion Heriberto "Loquillo" Lopez of Mexico in two hard-fought battles in singles trinkete handball. The scores were 15-2 and 15-3.
On the 36-meter court, Huarte faced off in a singles handball showdown against the lanky and powerful Fernando "Momo" Medina, the silver medalist at last year's world championships in Pau, France. The scores were 10-0 and 10-0.
RELATED EUSKAL KAZETA REPORTS:

Team USA Set to Begin Pelota Play at Pan Am Games
Etchevers, Huarte Win Opening Matches at Pan Am Games
Popularizing Basque Pelota
Both U.S. athletes face crucial showdowns Tuesday morning at the Complejo Revolucion, where all the pelota action takes place. A win will propel them into the medal round.
Huarte, the son of a sheepherder who spent his early years in Gardnerville, Nevada, but lives in Zilbeti Nafarroa, is scheduled to play Tuesday against Iker Urceley of Venezuela. Etchevers, meanwhile, faces Darien Povea of Cuba.
In 30-meter frontenis, Rolando Tejada and Daniel Delgado on Sunday beat a to a tough Argentinian duo of Jorge Alberid and Alexix Clementin 12-6 and 12-10.
On Monday evening, the Texas duo of Tejada and Delgado face a crucial showdown against undefeated Mexicans Alberto Rodriguez and Arturo Rodriguez. The Team USA frontenis players will end their preliminary play with a match against Ignacio Trucco and Francisco Versluys of Chile on Tuesday.
Also on Tuesday, brothers Tony and Josetxu Huarte will face Dariel Leiva and Ruben Moya of Cuba. A victory by the brothers will advance them into the medal round.
The Huarte brothers spent their early years in the South San Francisco area but now live in Amauir in the Basque province of Nafarroa. Both are veteran international competitors and represented the United States last year at the world championships.
For complete schedules and scores of all the pelota action, check out the Pan American Games website.
For more information on Basque Pelota, check out the U.S. Federation of Pelota website.