Team USA Pelota Players Win Matches, Will Battle for Gold and Bronze Medals at Pan Am Games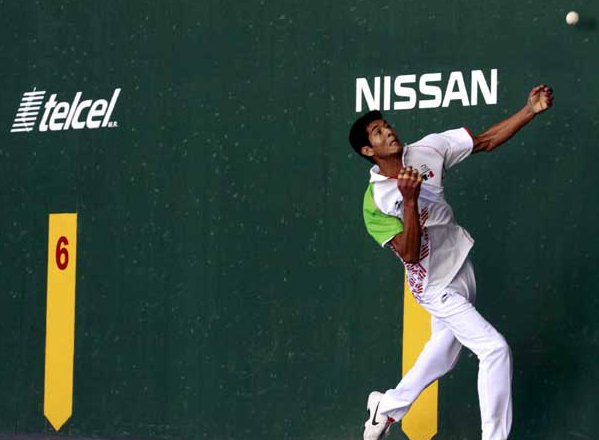 The Team USA Basque Pelota squad put on impressive performances Tuesday morning as four different athletes advanced to the gold and bronze medal rounds at the 2011 Pan American Games in Guadalajara, Mexico.
Roberto Huarte will play for the gold medal in 36-meter handball, while brothers Tony and Josetxu Huarte will also play for the gold in 36-meter doubles handball. They won an epic battle Tuesday morning that went on for 96 minutes and ended with the brothers winning a tie-breaking third set. Team USA's Roger Etchevers will vie for a bronze medal in trinkete handball.
"We achieved some great goals today," said Xabier Berrueta, president of the United States Federation of Pelota. "I'm proud of all the players, and I'm proud of all their performances."
RELATED EUSKAL KAZETA REPORTS:

Team USA Set to Begin Pelota Play at Pan Am Games
Etchevers, Huarte Win Opening Matches at Pan Am Games
Popularizing Basque Pelota
In 36-meter action, Roberto Huarte, who turned 23 yesterday, overpowered Iker Urceley of Venezuela in both matches. The scores were were 10-0 and 10-3.
Huarte, the son of a sheepherder who spent his early years in Gardnerville, Nevada, but now lives in Zilbeti, Nafarroa, advances to the gold medal match against Mexico's Fernando "Momo" Medina on Thursday afternoon. Huarte faces an uphill battle against the angular and powerful Medina, the silver medalist at last year's Word Championships. Medina dominated Huarte in two preliminary matches on Monday. The scores in both games were 10-0.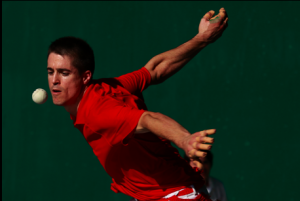 In the most exciting pelota contest thus far at the Pan Am Games, brothers Tony Huarte, 29, and Josetxu Huarte, 27, fought a gut-wrenching battle against Dariel Leiva and Ruben Moya of Cuba in doubles handball. Both teams gave stellar performances.
The U.S. and Cuban athletes fought it out with amazing, lengthy back-and-forth action. The average time between points was 3 to 4 minutes. In the first match, the Huarte brothers were trailing 9-5, but they rallied back to tie it at 9 all — only to lose 10-9 in the end.
The second set was just as exciting and was tied 5-5 before the Huarte brothers pulled away to win 10-7. The two teams then played a final tie-breaking set to five points. The brothers fought to a 3-2 lead and kept the heat on. They won 5-2.
"Josetxu and Tony possibly the played the game of their lives," said Berrueta, who was monitoring the live action and will arrive in Guadalajara Wednesday to see U.S. athletes play in the medal rounds.
The Huarte brothers spent their early years in the South San Francisco area but now live in Amauir in the Basque province of Nafarroa. Both are veteran international competitors and represented the United States last year at the world championships. They will face Mexico's Jorge Alcantara and Orlando Diaz. They beat the Huartes in preliminary action Saturday 10-4 and 10-2.
In trinkete handball, team USA's Roger Etchevers, 38, came up short Tuesday morning in a tough battle against Darien Povea of Cuba. The scores were 15-9 and 15-12.
Etchevers, a native of Pomona, California, who now lives in Basque town of Irisarri, will play for the bronze medal Wednesday afternoon. He faces Luis Maidana of Argentina and would appear to be the favorite in that game. In his opening preliminary match on Friday, Etchevers beat Maidana 15-2 and 15-7.
Later Tuesday, Team USA's Rolando Tejeda and Daniel Delgado, who are both 22, will battle Ignacio Trucco and Francisco Versluys of Chile in 30-meter frontenis for a shot to advance to the medal round. Tejeda and Delgado, who hail from Texas, lost Monday to a strong Mexican team of Alberto Rodriguez and Arturo Rodriguez. The scores were 12-2 and 12-4.
For complete schedules and scores of all the pelota action, check out the Pan American Games website.
For more information on Basque Pelota, check out the U.S. Federation of Pelota website.