Team USA Plays at Opening of World Championships of Pelota
Athletes from the Basque Cultural Center in South San Francisco are scheduled to compete Saturday Oct. 2 for the United States during the opening weekend action at the World Championships of Pelota in Pau, France.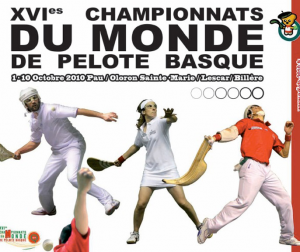 The seven BCC men and women are the members of Team USA. The men begin their tournament play in doubles handball against a tough Spanish squad and play singles handball against Mexico, which also has very solid players. Both games will be on a 36-meter court. The women will square off against Canada Friday in Paleta Goma an against Chile in Paleta Goma on Monday Oct. 4.
Related Euskal Kazeta Pelota Reports:
BCC Athletes at 2010 Pelota Championship
Popularizing Basque Pelota
Video: Argentina Battles Venezuela in Women's Pelota
The championship tournament will feature more than 500 players from 22 countries. In all, the contestants will be battling it out for world titles in 14 different pelota specialties. The tournament is sponsored every four years by the International Federation of Basque Pelota.
The BCC men will be competing in traditional handball, paleta cuero and the grueling pala corta specialty in which players smack leather balls with thick wooden paddles that weigh nearly two pounds each.
The men decided to focus on their three strongest specialties in the hopes of winning some medals, said Xabier Berrueta, president of the United States Federation of Pelota, an affiliate of the Basque federation. He has been watching the team train and is in France to monitor the tournament.
The competition will be tough. France and Spain have fielded experienced teams and will be among the favorites in both paleta cuero and pala corta. The two countries, along with Mexico, also have some of the top squads in handball.
Basque Cultural Center athlete Mireille Acheritogaray, who hails from the Bay Area but now resides in the Basque Country, will be part of the U.S. women's team. The BCC men are Christophe Alfaro, Remi Cuburu, Javier De Luz, Gratien Etchebehere Jr., John Falxa and David Indart.
Click on the following link for Team USA's pelota schedule.
For updates on scores, check out the Facebook page of the United States Federation of Pelota.