Celebrating Basque Festival Season

View Basque Summer Festivals in the U.S. in a larger map
Above: Interactive Basque Festival Map. Click on the blue "Basque Summer Festivals" to see a larger view.
In Basque communities across the West, the onset of summer means the celebration of festivals. These summer festivals are often referred to as "picnics," but in reality, they are so much more than picnics.
Festival dates were often picked to celebrate a saint's day in the Basque Country. For that reason, many festivals began with a traditional Basque Mass celebrated in the Basque language of Euskera.
The morning church service is followed by an afternoon and evening of merrymaking — massive barbecued lunches and dinners, dance performances, live music and, often, sporting events such as wood chopping, weight lifting and pelota, or Basque handball.
If you are inclined, you can spend a summer traveling across the West sampling festival after festival.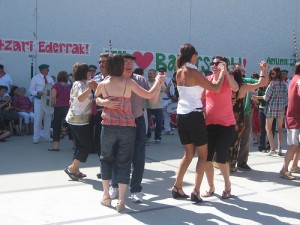 Related Euskal Kazeta articles, videos:
Basque Dancing Highlights Chino Picnic
Dancers at NABO Convention in Reno
Basque Pelota Players thrill Bakersfield Festival Crowd
Udaleku 09 Youths Join Southern California Basque Club Picnic
Basque Folk Dance Extravaganza
Basque Wood Chopper Swings Her Ax