Pakea Bizkaia sailboat navigating Antartic islands
According to the Spanish newspaper El País, the sailing expedition Pakea Bizkaia, with surfer Kepa Acero aboard, navigated through icebergs and snow to reach Antartica's South Shetland Islands Saturday, Jan. 11. Captain Unai Basurko had to sail the boat through a storm and winds with speeds from 30 – 70 knots
Temperatures ranged that day near 32 degrees Fahrenheit, and with the wind chill factor, it was more like 14 degrees. Upon reaching King George Island, the crew was invited inside Carlini Station, the Argentine research base on the island. The island supports a rich fauna of seals, penguins and marine birds.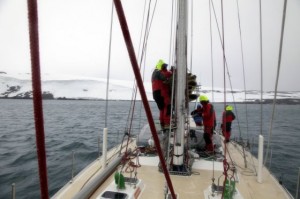 According to Acero's blog, they would not have internet access for 20 days during this part of their trip.
On Sunday, the crew remained on board, to conduct repairs, reported El País. Acero meanwhile, put on his thickest wetsuit and jumped in the water, which was reported to be 28 degrees. While there were no waves, he stayed in the water for a half-hour, paddling around.
See Euskal Kazeta's previous report on Acero's surfing goal and the Pakea Bizkaia expedition.




Kepa reports from their last stop before leaving the Americas.