Garamendi Appears to be Headed to U.S. Congress
California Lt. Gov. John Garamendi is likely going to Washington D.C. after winning a crowded election in September.
A Democrat, Garamendi is one of the most prominent Basque-American elected officials in the United States. He is the grandson of Basque immigrants.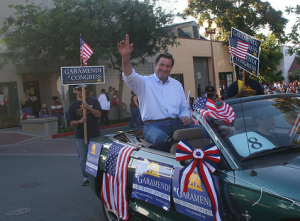 Garamendi, 64, captured 26% of the vote against 13 other contenders in the special congressional election. Since no candidate won a majority of the vote, the top vote getter from each party will face off in an election on November 3. Garamendi is the heavy favorite to win that election, according to political observers, because the district is strongly Democratic.
Garamendi will be running against Republican David Harmer. The sprawling Congressional district stretches from Sacramento County south to Alameda County in the eastern part of the San Francisco Bay Area. The seat was previously held by Ellen Tauscher, who resigned to go to the State Department.
On his campaign website, Garamendi touts his 32 years of public service, as well as his tenure as deputy secretary of the interior during the Clinton Administration. He also talks about his time in the Peace Corps, working as a volunteer in Ethiopia. A graduate of U.C. Berkeley, Garamendi played football for the Golden Bears and was a second-team All American as a guard.
Garamendi's grandparents operated the Ely Hotel in Nevada and the California Hotel in Stockton. Garamendi has hosted big Basque barbecues on his sprawling ranch in Mokelumne Hill in Northern California. The events, where the U.S. and Basque flags have been prominently displayed, are typically attended by hundreds of people who enjoy chorizos, music and performances by Basque folk dancers.