Jaialdi 2010 – Basque Extravaganza at Boise Fairgrounds
Thousands of people were treated to a Basque cultural extravaganza Saturday July 31 as Jaialdi 2010 moved to the Expo Idaho fairgrounds in the first of two days of celebrations at the sprawling center.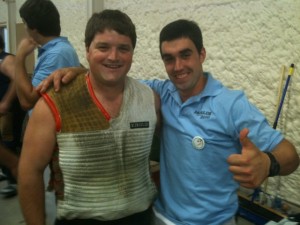 The huge fairground was filled with vendors, an exhibit of Basque sheepherder wagons and two arenas where dance and musical groups from Basque communities in the United States and the Basque Country performed colorful routines for festival-goers who filled the bleachers in the air-conditioned center.
Among those in attendance was Basque Lehendakari Patxi Lopez, who had been invited to Boise by Jaialdi organizers. At one point, Lopez sat by a fountain and posed for photos and mingled with festival-goers. He told Euskal Kazeta that he had enjoyed his time in Boise.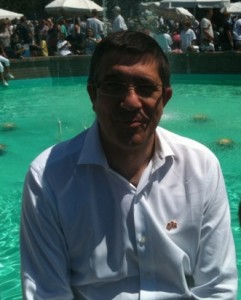 A number of the Basque performers and athletes who came to the week-long festival also had a great experience. For many of them, such as weightlifter Aimar Irigoien, it was their first visit to the U.S.
"It's beautiful here," Irigoien said as he prepared for lift heavy weights during an afternoon exhibition. "It's a great atmosphere."
In the evening, the action at the fairgrounds resumed with a dance party headlined by Boise's popular hometown Basque music band Amuma Says No. The dance floor was filled as people danced to fandangos and other traditional folk dances.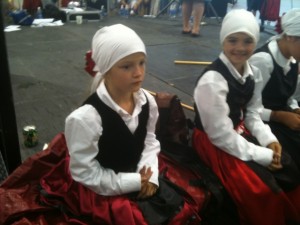 The week-long festival will end Sunday with a final day of exhibitions and performances at the fairgrounds