The Early Days of Folk Dancing in Bakersfield
How and when did Basque dancing get organized in Bakersfield?
See what Jeannette Arrayet had to say.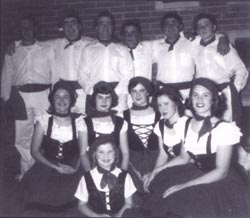 In the early 1950s, Jean and Rose Erasserret gathered a group of Basques together to dance the old country traditional dances.
Rose was determined to pass along the Basque tradition of singing, dancing and music through their children. Anyone who liked dance would come to practice in the old carpet shop behind their home. Their daughter Elizabeth provided the accordion music.
Some first dancers were Jeannette, Yvonne, Nane and Jean Erassarret. Marianne Laxague, Delores and Theresa Iribarren, J.P. Erreca, Ben Casenave, J.B. Sarçabal and Francois Pedeflous, Marcel Uharriet and Rose Ann Erassarret.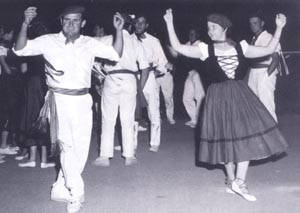 In 1958, their daughter and son-in-law, Jeannette and Jeannot Arrayet, headed the group and were joined by the Maitias, Amestoys, Ansolabeheres, Etcheverrys, Uhalts, Recas and anyone who wanted to dance. The Ansolabeheres' driveway on Olive Drive was one of the practice sites. When Elizabeth moved to France, Jeannette provided the accordion music and again regrouped and joined by Jose and Marie Maritorena, Rose Ann and Jean Pierre Arrayet, Jenny Arduain, Pauline Ansolabehere, Pete Arrayet, Amede Irey, Jose Maya, Leon Irissary, T. Mosier, Marlene and Jeannette Etchechury, J. Etcheverry, Grace Eyherabide, Jeanine Polley, J. Baroncini, Josephine Bernal, Albert Etchamendy, Battita Reca, Albert Falxa, and the Sallas.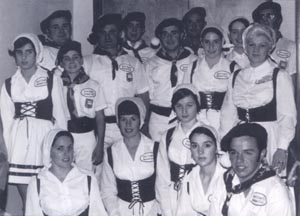 In the 70s, the Basque Club helped with the expenses and the group grew and practiced at the old Pyrenees Bakery building. This group practiced hard and performed in Colorado for a private celebration in Monterey for the National Wool Growers Convention, in Los Banos and for many other clubs in Kern County. When the Basque club purchased their new clubhouse, the dancers at last had a permanent practice home.
In 1979, Jenny Arduain and Jeannette Arrayet started the first children's dance groups which continue today. Through the years, instructors for the children's group have been Elizabeth Curutchague, Jenny Ansolabehere, Kathy lturriria, Elise Etchamendy, Rose Marie Etchamendy, Josette Daramy, Julia lturriria, Michele lturriria, Louis lturriria, Kristi Onaindia, Stephanie Duhart and John Goyenetche.