Porrusalda and other Basque soups and stews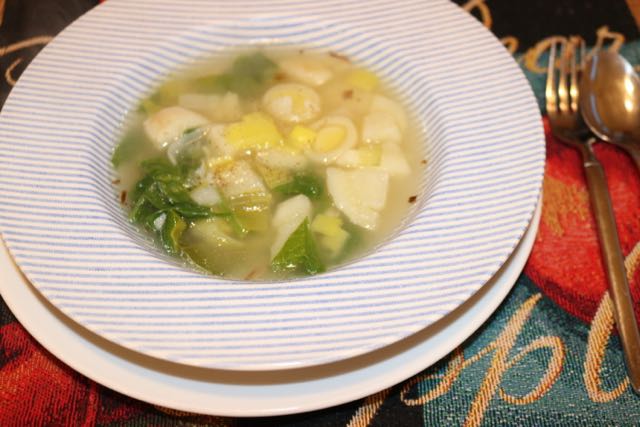 We are in quarantine due to the coronavirus. Headlines blaring in the media this week tell us we are not to even go to the supermarket to buy a few groceries, because we are at the height of the infections and they want as few people as possible to catch the disease. Thus, I have potatoes, garlic and leeks for the porrusalda I was planning to make this week, but I have finished off the carrots the recipe calls for. Thus, I'm left with just the basics. My son has made a quiche, but it needs a side dish and a veggie soup is just right.
Porrusalda (leek broth) is a traditional Basque soup. Leeks are an easy-to-grow and nutritious member of the onion family. The soup is typically made with potatoes and leeks and families frequently made a big pot on the weekend and served it up as the first course of dinner throughout the week.
I sautéed the potatoes and a couple of garlic cloves for a couple of minutes in the pot with the olive oil. Then I cut the white part of the leeks in rounds and rinse them in a bowl of water, massaging them a bit to get out the grit that sometimes gets in between the layers. The top green leaves are bitter and not used, so just cut them off. I throw those in my kitchen compost bin.
Throw in a handful of salt and enough water to cover the vegetables by about an inch. Let boil, then turn down and simmer for a least an hour, but longer tt is even better. As the soup is simmering and the house is filling with its wonderful smell, I realize that while I may not have carrots, I have plenty of collard greens in the garden. So I cut a few leaves and rinse them. I throw them in five minutes before I'm going to take the soup off the stove. They don't need much cooking.
Another traditional version of this soup is to add salt cod.
Here is a recipe of porrusalda with cod
Porrusalda with cod
More Vegetable Soups
Porrusalda
This recipe calls for breaking the potatoes into chunks.
Potato and Green Bean Soup
This recipe from the New York Times is super simple to make.
Vegetable Soup
This recipe reflects the simple style served in most family-style restaurants, plus a minor change (dry onion soup mix) that the author admits is not authentic, but adds flavor. If you don't want to buy a beef bone suggested in the recipe above, this is an option.
Potage Luzienne, or Olive Soup from St.-Jean-de-Luz
The author tells us this came from a cookbook on recipes from the south of France. It calls for fava beans, in addition to the olives. St. Jean de Luz is a wonderful touristic port town.
Soups with Meat
It makes sense that in the heavily meat-based Basque cuisine, many Basque soups contain meat. Several are mostly vegetarian, but contain chorizo for flavoring.
Basque Potato Soup
This recipe is mostly vegetarian, but calls for chorizo for flavor.
Cauliflower Soup with Basque Chorizo and Spinach
This recipe calls for pureeing the soup for a creamier version.
Chorizo and Lentil Soup
Chez Us blogger Denise Woodword remembers the soup her Basque grandmother cooked while growing up in northern Nevada. The question remains though. What is a dry-farmed tomato?
Basque Sausage and Garbanzo Soup
From Cooks.com, this recipe calls for sausage and ham hocks.
Vegetable Soup
While it's called vegetable soup, this Taste of Home soup includes chicken and sausage.
Potato Lentil Soup
This is another one that is mostly vegetables, but calls for chorizo for flavor.
Garbanzo Bean Soup
From Food.com. Looks delicious and includes sausage and chicken breasts.
Oxtail Stew in Brown Gravy
This recipe on Food.com comes from the cookbook "Recipes from Basque Restaurants of the West." This recipe is from the Carson Valley Country Club Basque Restaurant in Gardnerville, Nevada. Oxtail stew is a favorite in Basque restaurants. However, the recipe calls for a restaurant-size quantity, so you'll have to do some math to reduce it to a single family-size portion.
Red Bean Stew
From The Diary of an Unaccomplished Cook blog, this cook presents a recipe her husband developed while working for a Basque company. It calls for blood sausage.
Basque Seafood Soup
This recipe from the Los Angeles Times calls for fish, lobster, shrimp and clams.
Watch for an upcoming article on tuna stew, known as marmitako. Interestingly, I did not find a recipe for Basque garlic soup. I will keep looking for one.
Originally posted Dec. 7, 2014