Chef Hirigoyen Among Authors at Basque Culture Day (with piperade recipe)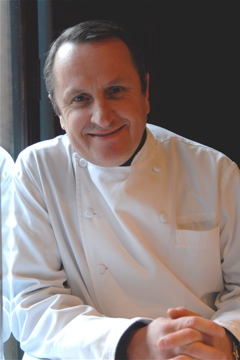 Renowned Basque chef Gerald Hirigoyen will talk about his newest cookbook, "Pintxos," during a book signing and tasting that will kick off a day dedicated to Basque books and authors at the Basque Cultural Center in South San Francisco.
The event — "Basque Cultural Day" — will be presented by the Basque Educational Organization on Saturday, Nov. 7. Two other authors, Sandra Ott, co-director for the Center for Basque Studies at the University of Nevada at Reno, and Christine Echeverria Bender, will also speak.
Among the activities will be a re-dedication of the center's library in honor of Martin Minaberry, who started the collection in 1984. Minaberry, who was also one of the founders of the Basque Educational Organization and worked tirelessly to promote the Basque culture, passed away in 2001. The library's books had not been accessible for many years, but in recent months, center officials have been working to update it and discard outdated items, said center president Philippe Acheritogaray. For a catalog of its items, click here.
MORE EUSKAL KAZETA RECIPES:
Favorite Basque Recipes
Burnt Basque Cheesecake
EK's Basque Bean Recipes
EK's Quick and Easy Paella
EK's Porrusalda and other Basque Soups
Tortilla de Patatas (Potato Omelette)
Basque-Style Peppers
EK"s Basque Vegetable Soup Recipe
Hirigoyen will talk about the inspirations for his book and sign copies. Complimentary pintxos will be served during his presentation, scheduled to run from 1 to 2:15 p.m.
"There's no better place to present this book than at the Basque Cultural Center," said Hirigoyen. He enjoys promoting the Basque Country through his cooking, but talking about his cuisine with his compatriots was "special," he said. "Pintxos" is Hirigoyen's third book and he is also the author of two restaurants in San Francisco — Piperade and Bocadillos.
Professor Ott will discuss how Basque literature has helped preserve and promote the unique culture and distinct history of the Basque people. Ott has published two books in the Basque Book Series of the University of Nevada Press.
Many Basque immigrants who flocked to San Francisco ended up starting their own gardening businesses. Stories of these entrepreneurs are captured in Pedro Oiarzabal's book, "Gardeners of Identity — Basques in the San Francisco Bay Area," which will debut at the event. The first edition of this book was published earlier this year by the Basque government as part of its highly regarded Urazandi series, which documents immigration history centered around Basque clubs worldwide.
Basques have long been recognized as some of the best sailors and boat builders in the world. The history of Basque whaling is captured in rich detail in the novel "The Whaler's Forge," written by Christine Echeverria Bender. Her newest novel tells the tale of a Basque whaler forgotten by his ship on the North American coast. The Boise-based Bender, who traces her roots to the Basque seaside town of Lekeitio, will be signing her novel and talking about the history of Basque whaling in North America.
A touring NABO photography exhibit will also be on display. The presentations will conclude with a dinner at the center.
People wishing to attend the event and enjoy dinner are asked to make their reservations by October 29. The cost is $30 per person. For information, contact Nicole Sorhondo at (415) 285-0748 or send an email to info@BasqueEd.org.

We love this version
of Piment d'Espelette
Recipe from Gerald Hirigoyen's book "Pintxos":
Piperade
Pipérade is basically a stew of sweet peppers and onions and is the quintessential dish of the Basque Country.
1/2 cup olive oil
1 small onion, thinly sliced lengthwise
1 red bell pepper, cored, seeded, and cut lengthwise into 1/4-inch-wide strips
1 yellow bell pepper, cored, seeded, and cut lengthwise into 1/4-inch-wide strips
6 garlic cloves, crushed or thinly sliced
4 ripe tomatoes, cored and cut into rough 3/4-inch cubes
Kosher salt
Piment d'Espelette
Heat a large sauté pan over medium-high until hot. Add the olive oil and warm it until it ripples. Add the onion, bell peppers, garlic, and tomatoes and cook, stirring occasionally, for about 10 minutes, or until the vegetables have softened and have begun to color. Remove from the heat and let cool.
Season to taste with salt and piment d'Espelette before using, and then use immediately, or store in a tightly covered container in the refrigerator for up to 5 days.