Udaleku 09 (with recipes for Crepes and Tortilla de Patatas)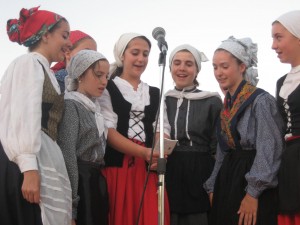 Udaleku 09 Basque Summer Camp ended July 11 with a colorful show and sumptuous dinner at the Chino Basque Club.
Almost 400 people from Basque communities across the West came to see music and dance performances by the 101 youths who took part in the two-week camp. The campers came from places such as Winnemucca, Elko and Reno, Nev.; Ontario, Oregon; Boise, Idaho; Bakersfield, Chino, San Francisco and Rocklin, Calif. And even Buffalo, Wyoming. One boy came from France, and a girl was from Spain.
The instructors also came from Basque communities in the West, as well as the Basque Country and Argentina, which has one of the largest number of Basques outside the Basque Country.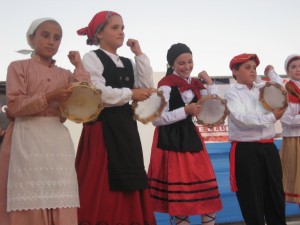 The campers, who had brought their costumes from their own dance groups, made a colorful ensemble on the outdoor stage, performing dances, singing songs, playing txistu and reading short introductions in Euskera. A highlight of the evening was a comical skit they invented in which they mocked the Udaleku teachers. Audience members commented on the amazing job the teachers did with the youngsters during the two-week camp.
John Ysursa, one of the Udaleku organizers, was the master of ceremonies. He thanked all the volunteers, noting that the camp was a success in large part to their efforts. During the two weeks, campers learned to play the txitsu, or flute, they took Basque language classes and learned about the culture and history of the Basque people. A highlight was a day-long trip to Disneyland during the second week of camp. After the show, campers were crying as they said goodbye and exchanged e-mails with their new-found friends.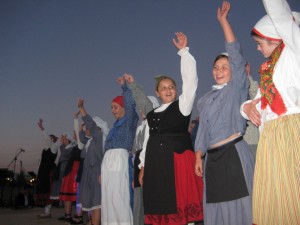 The guests for the grand finale also included participants in the NABO mus finals held at the clubhouse that day. Two women from Winnemucca won the card game championship. The campers had their own tournament, at the Centro Basco restaurant, and two boys from Winnemucca won that as well.
Here are two recipes from camp:
Udaleku Crepes
1 cup flour
3 tsp. sugar
2 eggs
½ cup milk
½ cup water
Mix flour and sugar with a fork, then add eggs. Slowly add liquids while mixing. Melt butter in a small frying pan. Pour in mix and turn pan to spread batter around pan. After about one minute, flip. Crepe is done.
Combinations to spread on your crepe: cinnamon and sugar, butter and sugar, marmalade, Nutella.
Udaleku Tortilla de Patatas
6 eggs
2 medium-size Russet potatoes
½ onion
2-3 tbsp. cooking oil
Salt and pepper to taste
Peel and dice potatoes and onions. Heat oil in frying pan. Add potatoes. Cook for about five minutes until slightly golden. Add onions, cook until translucent. While potatoes are cooking, beat eggs in a bowl. Add 2-3 tsp. water or milk. Add salt and pepper to taste. When potatoes and onions are finished cooking, scoop them out of frying pan, (leaving oil in pan) and stir into egg mixture. Pour mixture back into frying pan, and cook on low heat until eggs are no longer runny. Turn off flame. Put a plate over the top of pan and flip over. Then slide omelet back into pan, uncooked side down. Cook for 3-4 more minutes.