Urko Menaia at Gardnerville Basque Picnic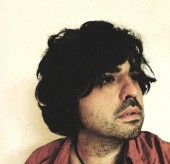 Urko Menaia, a folk singer from Donostia-San Sebastian, is currently touring the United States, playing concerts in four Basque communities in the next two weeks.
Menaia will play in Gardnerville, Nev., Littleton, Colo., New York City and Newport, R.I. He made a stop in Vancouver, Canada, playing for the Basque club there on August 6.
In a report about his current tour, EITB notes that he composes classical music and revives the sound of singers of the 60s and 70s. His music recalls that of Basque greats such as Imanol and Xabier Lete.
He will be playing this weekend, Aug. 13, at the annual Gardnerville festival, which promises to be an entertaining affair.
The Gardnerville event also features an appearance by the rocking "Amuma Says No" band of Boise, Idaho. It will be held at the CVCC Hall and City Park, both in Minden, next to Gardnerville.
MORE GARDNERVILLE STORIES FROM EUSKAL KAZETA
Movie with Dakota Fanning Shot at JT's Bar and Restaurant
Gardnerville Picnic: Something for Everyone
Sheepherder Carvings Near Gardnerville Explored
See the Euskal Kazeta Calendar of Events for dates and times of any local events.