Dakota Fanning, Emile Hirsch shoot film at Gardnerville's JT Basque Bar
The historic JT Basque Bar & Dining Room in Gardnerville became a Hollywood film set this week when Emile Hirsch and Dakota Fanning showed up to shoot their latest feature film.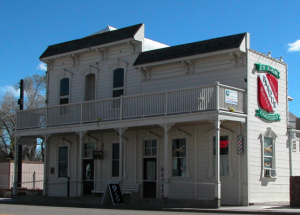 The two actors and crew members were filming scenes for "The Motel Life," based on a novel about two working-class brothers who flee a Reno motel after a fatal hit-and-run accident.
"It was an amazing experience," said a post on the JT Facebook page.
Fronting Highway 395 along a historic strip of Gardnerville, the restaurant and bar are housed in a wooden building dating back to about 1895. The colorful bar is known for its hat collection on the wall and dollar bills hanging from the ceiling.
MORE GARDNERVILLE STORIES FROM EUSKAL KAZETA
Gardnerville Picnic: Something for Everyone
Sheepherder Carvings Near Gardnerville Explored
Basque Singer Urko Menaia at Gardnerville Picnic
See the Euskal Kazeta Calendar of Events for dates and times of any local events.