Gateau Basque recipes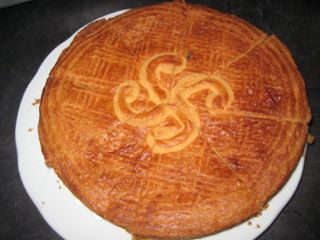 Gateau Basque is the French term for Basque cake, the classic Basque dessert. Here you will find a number of recipes from the internet for this cake with a crunchy tart-like exterior and a soft filling. Two completely different kinds of filling are traditionally used. More commonly, it is filled with an almond or rum-flavored pudding-like cream, but it can also be made with black cherry jam. Tradition calls for it to be filled specifically the jam from the town of Itxassou, France.
The short description in Wikipedia claims the title "Gateau Basque" was bestowed because travelers to the Basque Country could not pronounce the pastry's name in Euskera. In some Basque provinces, it's known as bizkotxa — doesn't seem that hard.
The internet is full of Gateau Basque recipes. I am including those that appeared likely to turn out well. The author of one recipe I did not include was so disappointed in how her recipe turned out that she discouraged any reader from making it. Hilarious! Another recipe I discarded was Pastry Studio's. There, the author attributed the dessert to the Basque region of "Spain," but then refers to its origin in the "Cambo province of Labourd" (which is on the French side.) It bothers me when people talk about the Basques and then get the facts wrong. We have enough trouble getting publicity.
The cake is so special that it actually has a museum dedicated to it — Cookbook author Dorie Greenspan made a special trip to the Gateau Basque Museum in Sare, France. In a delightful blog, she notes that her visit was totally worth the eight hours it took her and her husband to get there. In fact, after I wrote this post, I met the delightful daughter of the museum's owners, Anaïs Marichular, who is studying English in California, studying leisure management and working for a fine chocolatier. See the museum's website, which is in French, here.
Gateau Basque is also celebrated in an annual festival in the town of Kanbo (Cambo les Bains). The annual Fete du Gateau Basque has its own website, in French.
Don't miss the totally decadent chocolate Gateau Basque. See the link at the bottom of the page.
Australian and British recipe sites use metric measurements. To convert them, here is a simplified conversion chart.
Favorite Basque Recipes
Chef Gerald Hirigoyen's Piperade recipe from his book, "Pintxos"
Burnt Basque Cheesecake
EK's Gateau Basque Recipes
EK's Basque Bean Recipes
EK's Quick and Easy Paella
EK's Porrusalda and other Basque Soups
Tortilla de Patatas (Potato Omelette)
Basque=Style Peppers
EK"s Basque Vegetable Soup Recipe
With Cream Filling
National Public Radio
Cookbook author Dorie Greenspan said she ate Gateau Basque morning, noon and night when she was in the Basque Country. This recipe includes an NPR radio report on the cake.
The Musee du Gateau Basque's recipe
The Gateau Basque Museum offers its own recipe, which it claims is the true, "veritable" recipe. In French.
Museum of Gateau Basque's recipe translated to English
An ambitious student at the University of Illinois at Urbana-Champaign translated the museum's recipe and changed the grams, etc. to American measurements.
Food and Wine
This recipe includes a filling of pastry cream and cherries, which is my least favorite version. Either stick to the pastry cream, or the black cherry filling. Don't try to mix them. But I'll throw in the recipe anyway.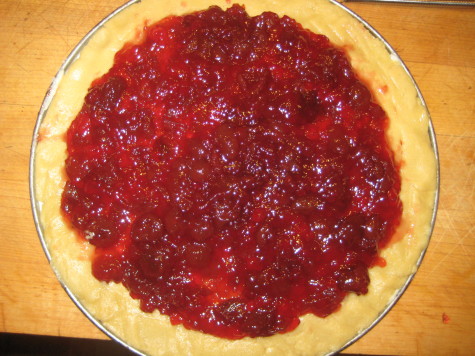 Chef Amanda Rockman's Basque Cake
This version, presented on the website Lottie and Doof, was so delicious it apparently made some restaurant-goers at The Bristol in Chicago cry! However, it's a bit more complex, requiring a bowl with a paddle attachment. Also a piping bag, although a zip-lock bag with a corner cut off works fine. It's still on the menu for The Bristol for you Chicago fans of Gateau Basque.
Yummy Workshop's Salted Caramel Gateau Basque
This recipe puts a twist on the classic Gateau Basque. The author was inspired by the vanilla salt at the bakery she works at, writing that: "since the dessert is quite rich, adding salt and caramel would cut back its richness, and add another layer of flavour."
With Cherry Filling

Amni Eats
Amni Voorhes developed her gateau basque recipe after spending time with her in-laws in Getari, France. She blogs about her experience and how she prefers the cherry filling version— like me.
Communal Table
Ame, the author of this essay on the dessert provides an interesting description of how she became enamored of Gateau Basque even before she tasted it — through Mark Kurlansky's "Basque History of the World." Then she went to a local cherry orchard to pick fresh cherries for the recipes.
Joe's Pastry
Joe provides photos for every step of the way.
Zen Can Cook
Zen (real name Stephane) is French, and attended cooking school in the Basque Country before he began cooking all over the world. Read his post about how he and his friends stole the amazing Gateau Basque recipe from his cooking teacher. See the link above for metric measurement conversions.
Here's a new, unusual version
With quince & black currant jam, and chocolate covered cherries
And a chocolate gateau basque
From "Delicious" magazine.