Paella de Vera Cruz — easy and quick
As the owner of a saffron import company, Juan San Mames has developed a distinctive recipe for the traditional Spanish rice dish paella, whose signature ingredient is…saffron.
"Paella is simple," said San Mames recently, as he and his wife Rosa Maria cooked up three huge pans of paella with shrimp and chicken for over 120 youngsters and teachers at the Basque culture camp Udaleku at the Basque Cultural Center in South San Francisco. "It's a peasant dish."
In his view, today's paella recipes are too complicated. You don't need chicken broth, according to San Mames. He chops his chicken pieces near the end joints, to expose the bone marrow. The juice leaks into the paella while it cooks and gives great flavor. Clams should be put in with the joint facing down, for the same reason. Besides, canned broth has too much salt, says San Mames.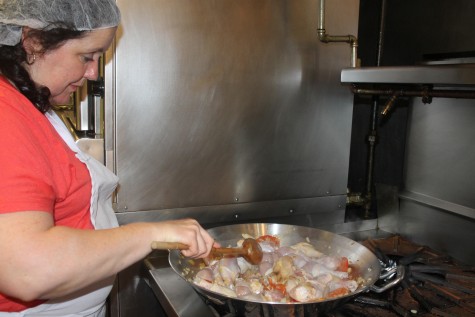 Paella developed as a dish that peasants cooked over a fire with whatever meat or fish they had available, according to San Mames. As a result, he says it took only 20 minutes or so to cook — the length of time a fire lasts.
While paella is not originally Basque, Basques have taken it as their own and serve it at many Basque restaurants.
He attempts to imitate that simpler recipe when he makes paella. He doesn't fry ingredients then take them out of the pan. He starts with olive oil and garlic, adds diced onions, then one by one the other ingredients. Everything gets added to the same pan.
"You integrate one flavor into the next one," he explains.
"To do paella right, you have to have everything ready." That way, you can quickly add each ingredient as it's cooking.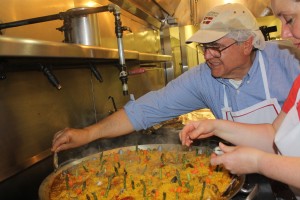 The formula for cooking the rice is to use the measurement of 2 to 1. Whatever quantity of rice you use, just use twice as much water. And make sure the water is boiling before you add the rice.
He soaks the saffron in warm water, because it can take up to 12 hours for saffron to release. Powder releases faster, says San Mames.
San Mames discourages cooks from using paprika (pimenton) or chorizo, because he says they both affect the flavor of the saffron. You also need very little salt, because saffron works as a salt substitute.
"The essence of paella is the saffron," said San Mames. Paprika, a commonly suggested ingredient for paella, neutralizes the saffron taste. And chorizo often has paprika and adds too much grease.
"Spend your money on saffron, because that is where the flavor comes from," he notes. His San Francisco-based company, Golden Gate Brand Saffron, offers a money-back guarantee on its saffron, which comes from Iran or Afghanistan. Learn more about saffron in general from his website, Saffron.com. Here is San Mames' paella recipe. The 1530 refers to the time when the Old World and New World merged, and new vegetables were introduced to the original recipe.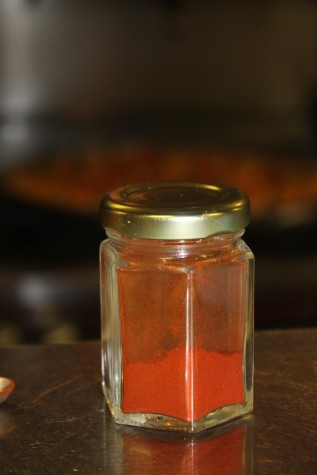 Paella De La Veracruz 1530
For 4 people (double amounts for 8 people)
Ingredients
Use an aluminum paella pan. Buy an aluminum pan here from Amazon.
Cut and prepare all your ingredients before you start.
2 tablespoons of olive oil
3 cloves of garlic, lightly chopped
½ to 1 onion, diced
One medium tomato, diced
2 cups or more of any other desired vegetables, such as carrots, asparagus, bell peppers. Always use fresh seasonal vegetables.
1 to 2 chicken drumsticks per person. Make a small cut into the bone of each piece, to release the juice
Water: 2 cups for each cup of rice
2 c. rice. Basmati is a good choice and is the kind of rice that most reflects the old rice of the Valencia Albufera. Use your favorite rice in your paella.
.500 grams (4 capsules) of  Golden Gate Brand Saffron (.250 g. (two capsules) per cup of rice, .125 g. early in the cooking, the other .125 g. a bit later.) If you are using saffron threads, crush them first. Soak saffron in a cup of warm water for 1-2 hours before cooking.
Mussels – 1 per person. Use frozen green mussels from New Zealand or Australia and wait until they're partially thawed out. You do not need to clean them. They come cleaned already and frozen in their own salt water. Use them as they come in the half shell.
Clams- 2 per person. Make sure you wash and inspect clams one by one. Put clams in a container of water overnight with some salt, check clams again in the morning and throw away the ones that are "dead" (not closed). Wash them again until they are clean of sand etc.
Shrimp- 2 per person. The shrimp must have the shell and head on, or they will dry out during cooking. Put a bit of salt on the shrimp.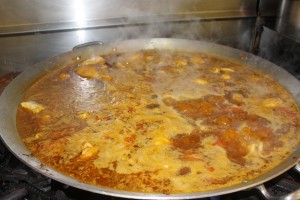 <s
Instructions
1. Add the oil. Heat on a low flame.
2. Add the garlic. Cook at low heat until lightly browned.
3. Add the onion. (You may use more onion and garlic if you are making a vegetable paella).
4. Add the tomato.
5. Add the meat. Throw in half of the saffron now: one capsule (.125 g.) for each cup of rice. You may increase the rice, vegetables or pieces of meat depending on your family's eating habits.
6. Simmer/fry all together at low heat. Do not overcook. Simmer slowly. Cook the chicken until "brown," so all the juices are out. At least 10 minutes.
7. Add second half of the saffron, mixed in water. Use (.125 g.) per cup of rice.
8. Add 2 cups of water for each cup of rice. Include the saffron water in your measurement. Taste the liquid and salt to taste. Let the water boil for a couple of minutes before you add rice.
9. Add the rice. While the rule of thumb is one cup of rice for each two cups of water, some rice absorbs more while others need less. Also remember that some seafood releases a lot of water, so compensate by putting in less water. You may have to try the paella a couple of times before you get it right.
10. Shake the pan to distribute the rice evenly. Use a wooden spoon to stir. Rice should cook for 15 – 20 minutes.
11. If you want to use shellfish like clams or mussels, sink them point up so when they open up, the rice will come inside and absorb the juice. Add them when the rice starts to get dry, but you still see some water boiling (5 minutes before you turn off the gas). Make sure the clams and mussels do not overcook and they have time to release their water and absorb the saffron water from the rice.
12. Put the vegetables in before the shrimp and after the clams. Cut them in strips. If the vegetables are "hard," like carrots and asparagus, sink them in vertically in the rice after you have added the seafood. Lay the asparagus tips, which are softer, along with peppers, on the rice horizontally.
13. Lay the shrimp quickly and flat around the paella pan about 3 minutes before you turn the gas off. The head and shell on the shrimp keep them from overcooking.
14. After you put the shrimp in, taste the rice to make sure it's cooked. Cover with aluminum foil. Wait 3 minutes and then turn the gas off.
15. Wait 5 to 7 minutes with the foil on the paella pan to "steam cook" the veggies and the shrimp. These will release their juices into the rice.
Once you show off your creation, you may want to stir in the vegetables and the shrimp into the rice so that they absorb the saffron flavor. Remember, the flavor, color and aroma come from the saffron. You need to use very little or no salt, the saffron is a great salt substitute.
MORE EUSKAL KAZETA RECIPES:
Favorite Basque Recipes
Chef Gerald Hirigoyen's Piperade recipe from his book, "Pintxos"
Burnt Basque Cheesecake
EK's Basque Bean Recipes
EK's Quick and Easy Paella
EK's Porrusalda and other Basque Soups
Tortilla de Patatas (Potato Omelette)
Basque-Style Peppers
EK"s Basque Vegetable Soup Recipe