Bakersfield Basque festival to host NABO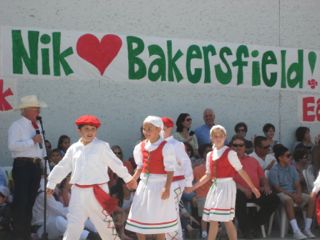 The summer NABO convention is still several months away, but organizers in Bakersfield have already lined up an impressive array of activities that will coincide with the Kern County Basque Club's 42nd annual festival.
The festivities will run over the Memorial Day weekend, May 24-26, and kickoff on Friday with events at the Wool Grower's Restaurant, a Bakersfield Basque institution.
The North American Basque Organizations, or NABO, was launched in 1973 and represents dozens of Basque clubs in the United States and Canada. Each year, NABO schedules its convention to coincide with a different annual festival hosted by a Basque club.
RELATED EUSKAL KAZETA REPORTS:
Top 4 Things To Do at Bakersfield Basque Festival
Kern County Basque Festival: Something for Everyone
Video: Basque Pilota Players Battle on the Bakersfield Fronton
On Friday May 23, NABO delegates will hold their meeting at Wool Growers from 8 a.m. to 3 p.m. That evening, the restaurant will be host to an accordion festival and performances by singer Mikel Markez, from the Basque County, and the Chino-based A Capella group Noka.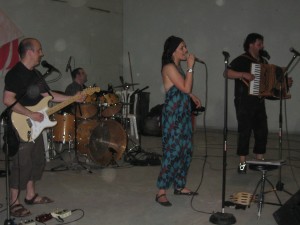 On Saturday, the action will shift to the Kern County Basque Club, where handball players will battle it it out in the NABO pilota championships on the newly remodeled handball fronton.
Basque pilota players, always a highlight at the Bakersfield festival, will also square off in a series of exhibition matches.  On top of that, mus players will take over the inside of the club for a daylong contest, and Basque chefs will compete to make the best chorizo during a tripota contest.
On Sunday, the day will kick off with Mass at the Basque club, followed by a barbecue lunch, dance performances and more handball. At night, Luhartz, a popular band from Durango in Bizkaia, will belt out their catchy songs during a dance under the stars on the club's handball court. The festival always ends on Monday with a traditional family-style breakfast at Woolgrowers' that lasts all day and is likely to include a performance by Luhartz.
People planning to attend are urged to make hotel reservations, as some places are already starting to book up. For more information on hotels and the festivities, check out the Kern County Basque Club website.


style="display:inline-block;width:234px;height:60px"
data-ad-client="ca-pub-7462402184198602″
data-ad-slot="9201309489″>