Basque Festivals Across the U.S.

View 2011 Basque Summer Festivals in the U.S. in a larger map
The onset of spring and summer means lively and colorful Basque festivals from San Francisco to Rhode Island.
Some of these celebrations, such as the Kern County Basque Club festival held during the Memorial Day weekend in Bakersfield, typically attract thousands of visitors who feast on hearty Basque dishes and enjoy great dancing performances and thrilling exhibitions of pilota, or Basque handball. Other events, such as the annual picnic sponsored by the Rhode Island Basque Club, are not as large. But each offers an opportunity for local Basque communities to celebrate their unique heritage and culture. Those who have attended know there is nothing quite like a Basque festival.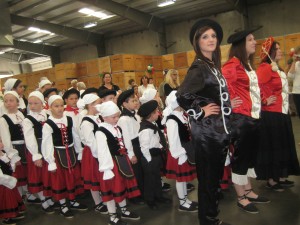 The map above is a one-stop interactive guide to Basque festivals and picnics across the United States.
Related Euskal Kazeta Reports:
Hundreds Enjoy Fresno Basque Festival
Reno Basques Host Huge Festival
Great Pelota Action at Kern County Basque Festival