Jaialdi 2010: Boise Hotels Filling Up

View Jaialdi 2010 in a larger map
Above: Interactive festival map. Click on icons or blue Jaialdi 2010 link.
Hotels in the downtown Boise area say they are already booked or are filling up fast as people make reservations for the huge Jaialdi 2010 International Basque festival to be held in the city beginning in late July.
Not surprisingly, several hotels closest to the Basque Block — which will be an epicenter of party activity — are booked up and are putting people on waiting lists. The festival will be held from July 27 to Aug. 1
Hotels that report being filled include The Grove Hotel, the Hampton Inn and Suites and the Owyhee Plaza Hotel. If you still want a room at these places, you can ask to be put on a waiting list or continue to check the hotels' web pages to see if a room opens up, according to hotel reservation workers contacted by Euskal Kazeta.
For links to Boise hotels, festival activities and sites to purchase event tickets, click here or click on the Jaialdi 2010 interactive map above.
Downtown Boise area hotels that report still having available rooms include The Marriott Courtyard, the Modern Hotel and the Shiloh Inn, which is about 2-1/2 miles from the Basque Block. Hotels outside of Boise should have rooms available.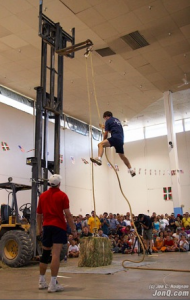 The week-long festival is held every five years as an international celebration of Basque history and culture. Event sites will be across Boise, but a main venue will be the Expo Idaho center, where dancers will perform on two stages and where vendor and food booths will be located.
Jaialdi 2010 is expected to attract 25,000 or more people from Basque communities in the United States, the Basque County and Latin America.
Festival organizers have set up a website, a FaceBook page and Twitter account for people to communicate with each other or follow events leading up to the big Basque bash.
Related articles:
Oinkari Dancers Plan Jaialdi Reunion
Countdown to Jaialdi
New California Dance Group to Perform at Jaialdi
Jaialdi 2010 Tickets Available to Public