Inside Berri Txarrak's Venice Beach Bash
Members of the popular Basque rock band Berri Txarrak capped their stay in Venice Beach with a party for their soon-to-be released album titled Haria, or thread in English. Click on the video above to check out scenes from the listening party.
The Basque rockers held the party at the Venice Beach home of well-known music producer Ross Robinson, who is producing Haria. All the songs are in Euskera, the Basque language. The group's members stayed with Robinson during their time in Venice and recorded their music inside a studio in his home.
Related Euskal Kazeta Report:
Berri Txarrak Records Album in Venice Beach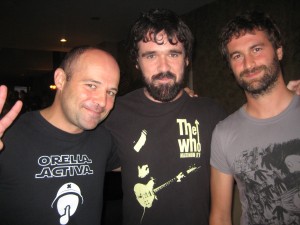 Robinson earned fame for having discovered several big name hard-rock groups such as Korn, Limp Bizkit, At the Drive-In and Glassjaw.
Berri Txarrak singer and songwriter Gorka Urbizu said working with the veteran producer was "like a dream."