International Film Festival in Donostia
By Nancy Zubiri and Ane Albisu
Basque filmmaker Imanol Uribe received a special award at the Donostia Zinemaldia (San Sebastian Film Festival), in the Basque Country on September 23. He was honored with the "Zinemira Award" during a special gala event at the Victoria Eugenia Theater in Donostia (San Sebastian). The award is given annually to a Basque movie personality.
Uribe, who was born in El Salvador but raised in Madrid, has been making movies since 1974. He has directed countless films, including "Women on the Verge of a Nervous Breakdown" (1988), "Numbered Days" (1994) and "The Burgos Trial" (1979) about the trial of several ETA prisoners.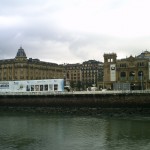 Actors Brad Pitt and Cristoph Waltz and director Quentin Tarantino of the film "Inglourious Basterds" arrived in Donostia for the opening of the festival on Friday, Sept. 18. They were just a few of the many famous actors, directors and producers who passed through this internationally known seaside city for the 57th annual festival. (See EITB video press conference with Pitt, Tarantino and Waltz).
Some other well-known personalities who participated included actors Robert Duvall and Chiara Mastroianni and movie makers Ang Lee, John Madden and Fernando Trueba. (See EITB's list of guests)
Unlike in the past, in which Basque films were presented on a special day, an entire category, Zinemira (Basque Film Showcase), was added this year to the film festival to highlight the growing number of Basque films. The festival showcased nine Basque films, six of them for the first time, showing them several times throughout the festival. (See EITB's article on the Basque showcase)
A gala evening on Wednesday, Sept. 23 included the showing of "The Cloud-Painting Machine" (Lainoak Margotzeko Makina) by Patxo Telleria with Aitor Mazo. This film tells the story of a youth in a working-class neighborhood of Bilbao who wants to paint. Uribe will receive his award at this event to be held at the elegant Victoria Eugenia Theater.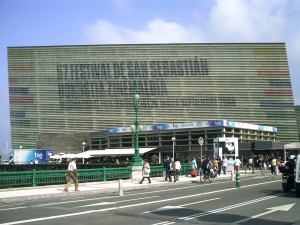 Basque Films in the San Sebastian Film Festival
"La Maquina de Pintar Nubes" Patxo Telleria and Aitor Mazo. (premiere)
"Itsasoaren Alabe" Josu Martinez (premiere)
"Life and Film," Arkaitz Basterra (premiere)
"Rough Winds," Andrea Olabarria, produced in the U.S. (premiere)
"Umurage," Gorka Gamarra (premiere)
"Zuzendu Mesedez," Juan Miguel Gutierrez (premiere)
"Ander," Roberto Caston
"Checkpoint Rock," Fermin Muguruza y Javier Corcuera
Sukalde Kontuak, de Aizpea Goenaga
Also, a special showing of Basque shorts, open only to professionals, was organized by the Basque government. Known as Kimuak 2009, the films represent the best short Basque films of the year.
For complete list of Basque films, see Festival's page on Basque Zinemira