Jaialdi 2010 – NABO Men's Pelota Championships
It was a California sweep in the 35th-annual NABO men's pelota championships with Bakersfield and San Francisco coming out on top during the Jaialdi 2010 tournament at Boise's historic Anduiza Fronton.
The Bakersfield duo of Dennis Petrissans and Jose Goñi beat a tough San Francisco squad to capture the Class B Division paleta goma finals before a packed house on Friday evening July 30.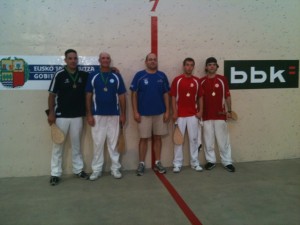 The games were simulcasted live to hundreds of people at the Basque Center as Jaialdi crowds saturated the Basque Block during the huge festival. Xabi Berrueta of San Francisco did the play-by-play announcing.
Related Euskal Kazeta Pelota Coverage:
Jaialdi 2010 World Pilota Council Women's Tournament
Bakersfield and Boise Women in Jaialdi 2010 World Pilota Council Tourney
In the Division A paleta goma finals, the crowds were treated to a tight, back-and-forth struggle between San Francisco and Boise. The lead changed hands several times during the exciting contest. In the end, San Francisco players Robert Iriartborde and Jack Uhalde came out on top 35-32.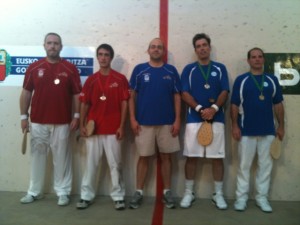 Earlier in the day, women from San Francisco, Boise and Bakersfield played in championship rounds. Those scores will be posted later.