This is one in a series of Euskal Kazeta reports leading up to Jaialdi 2010.
Festival goers planning to attend the huge Jaialdi 2010 International Basque Festival that will be held in Boise in late July can now purchase tickets online for dance and cultural events.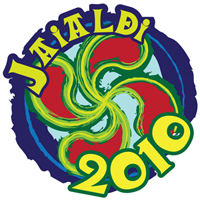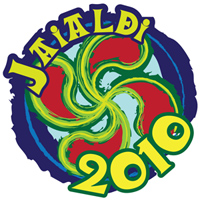 The tickets can be bought at idahotickets.com. The events for which tickets are available include the Festa'ra, showcasing Basque music and dance. The event is scheduled for Friday July 30 at the Morrison Center for the Performing Arts, on the campus of Boise State University. (Put "Festara" in the search).
Tickets can also be purchased for three events at the sprawling Idaho Expo center — Basqueing at the Fairground, which will be held during the day on Saturday July 31; the Basque Street Dance Saturday night July 31; and Basqueing at the Fairground on Sunday Aug. 1. (Enter "Basque" in the search.)
[Updated 2-15-10] You can also purchase tickets for Sports Night, which held Wednesday, July 28, at the Qwest Arena. To buy tickets, click here.
Jaialdi organizers announced the ticket sales on their web page.
Tickets for the Festara are $28, with all seats reserved. Prices for the events at the Idaho expo center are $5 for children and $10 for audults.
For festival event sites, schedules and Boise hotels and restaurants, check out Euskal Kazeta's interactive Jailaldi map.
Boise will be buzzing with activity during the festival, which is held every five years to celebrate all things Basque. An estimated 25,000 or more people are expected to saturate the city as Jaialdi 2010 unfolds during the week of July 28 to August 1.
At the expo center, dancers from more than 36 groups from states across the West and musicians will perform on two different stages. And visitors will be able to enjoy home-cooked Basque cuisine at a food court that will sprawl across more than a half acre of the center. For the Saturday dance party, Boise-based Amuma Says No will headline the night of music and dance.
People can keep track of the festival or share thoughts with each other on the Jaialdi 2010 Facebook page. A Jaialdi 2010 Twitter account has also been created.
Related articles:
Oinkari Dancers Plan Jaialdi Reunion
Countdown to Jaialdi
New California Dance Group to Perform at Jaialdi
Jaialdi Map:

View Jaialdi 2010 in a larger map