Mattin Noblia Selling Iluna Basque in San Francisco
San Francisco chef Mattin Noblia, who appeared last year on the popular Top Chef show, is selling his Iluna Basque restaurant.
Noblia opened the trendy restaurant in 2003 on the edge of the city's tree-lined Washington Square. He was just 23 at the time.
Related Euskal Kazeta reports:
Video: Basque on Top Chef Show
Mattin Noblia Talks about Operating Iluna Basque


In an interview last year, Noblia told Euskal Kazeta that he wanted to be known as the chef with the red scarf, which has been popularized by Basque youths who run with the bulls each year at the San Fermin festival in Pamplona.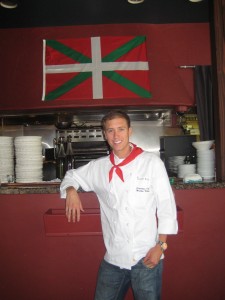 Noblia told the San Francisco Chronicle this week that he has decided to take a break from the restaurant business. Noblia says it has been hard work running the restaurant, where people who come to enjoy tapas such as potato croquettes, bacalao, mussels with garlic and parsley butter, or sip specialty Basque drinks, like Picon Punch and Kalimotxos.
"The restaurant has been packed every night," Noblia told the newspaper, "but doing it solo is hard."
Nobila says he plans to open a fitness center next to the restaurant. The new owners of Iluna Basque will be Rebecca and Jon Rader, who own Frascati restaurant in San Francisco's Russian Hill neighborhood.