Pete Cenarrusa to Sign Copies of His Memoir
Pete Cenarrusa, a trailblazer in the Basque American community and former Idaho secretary of state, will unveil and sign his memoir Wednesday Dec. 16 in Boise.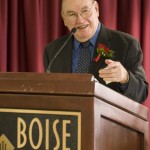 He will present his book, "Bizkaia to Boise: The Memoirs of Pete T. Cenarrusa," from 5 to 7 p.m at the Basque Museum and Cultural Center.
Cenarrusa, who will be 92 this week, served in the Idaho Legislature for 17 years and was House speaker before being elected secretary of state. He served a total of 50 years in public office — a record for Idaho elected officials.
Cenarrusa co-authored his memoir with Quane Kenyon, a former columnist and reporter for the Associated Press. Cenarrusa will speak and sign copies of the book, which can be purchased for $20.
All proceeds benefit the Cenarrusa Foundation for Basque Culture, which helps promote Basque traditions and history. The center was organized in 2003 by Cenarrusa and his wife, Freda.
Cenarrusa recently gifted his extensive collection of papers to Boise State University's Albertsons Library.
The tens of thousands of items will take more than a year to catalog, university officials said. The collection was donated in pieces, beginning in 2004, with papers related to Cenarrusa's support of the Basque community in Idaho. Most of the political materials were received in September. Much of the content of the Basque collection can be found online on the Boise State library web page. (Put Cenarrusa in the search.)