Piperade, a San Francisco restaurant owned by renowned Basque chef Gerald Hirigoyen, is celebrating 10 years years in business and has added a new private event space.
The 1,000 square-foot space is called Lauburu, which is the Basque cross, and seats 30 people who can order from a personalized menu.
Details of the new event space, which is next to Piperade, were reported by the San Francisco Eater.
RELATED EUSKAL KAZETA REPORTS:
Favorite Basque Recipes
Basque Restaurants in the U.S.
Chef Hirigoyen Among Several Authors at Basque Culture Day
Located in the Embarcadero at 1015 Battery, Piperade is not far from where a cluster of former boardinghouses and handball courts once paid testament to the city's rich Basque history and culture.
San Francisco is home to the oldest surviving Basque community in the West.
The city is home to several Basque restaurants that are within close proximity to each other, which prompted the San Francisco Chronicle to call that area the city's "Basque Quarter." The restaurants include Bocadillos at 710 Montgomery St., which also is owned by Hirigoyen, as well as Txoko at 504 Broadway and Bask at 42 Columbus Ave.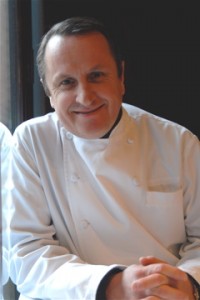 Other Basque San Francisco-area restaurants include the Basque Cultural Center in South San Francisco. For a comprehensive list of Basque restaurants, see the Euskal Kazeta restaurant page.