U.S. Basque Festivals 2013: Interactive Map

View 2013 Basque Summer Festivals in the U.S. in a larger map
The onset of spring and summer means the arrival of Basque festival season in communities across the United States.
From Rhode Island to California, Basques will showcase their unique culture and their pride in being both Basque and American. The festivals are also an opportunity for non-Basques to enjoy colorful dances and great food and mingle with people who have managed to maintain traditions that date back centuries to the villages and cities of the Basque Country in France and Spain.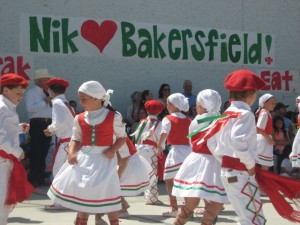 Some of the festivals, such as the National Basque Festival in Elko, Nev., are huge extravaganzas and typically draw large crowds. Others, such as the mountainside picnic sponsored by California Basques in Ventura County, are small affairs. But each one is guaranteed to feature a fun time for all who attend.
The map above is your one-stop interactive guide to Basque festivals across the U.S. Simply click on the icon, and find out about the details for each festival.
Related Euskal Kazeta Reports:
Hundreds Enjoy Fresno Basque Festival
Reno Basques Host Huge Festival
Great Pelota Action at Kern County Basque Festival