Visiting Youth Join Basque Festivities in Chino
An exciting dance performance by Udaleku 09 youths was a highlight at the 63rd annual Southern California Basque Club picnic.
Several hundred people gathered at the day-long event, where they enjoyed traditional Basque dancing, music by the Chino Klika and tasty barbecued steak for lunch and lamb for dinner.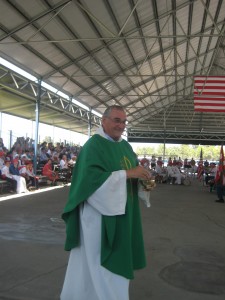 People cheered and took photos as about 100 Udaleku youths – decked out in colorful dance costumes from their respective clubs all over the west– showed off some of the dancing they learned during the first week of the Basque summer camp. The camp continues for its second week before ending on July 11.
The festival was held July 5, 2009, at the pavilion at the Chino Fairgrounds. It began with a traditional Basque Mass celebrated by local Basque priest Father Javier Altuna and also Father Jean Pierre Cachenaut, who came from the Basque Country for the event. Father Cachenaut served the Basque community as its chaplain for many years during the 1970s and 1980s.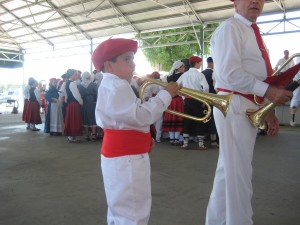 Outgoing club president Laurent Arretche thanked everyone for coming, noting that the picnic had the added benefit this year of coinciding with the Basque summer camp.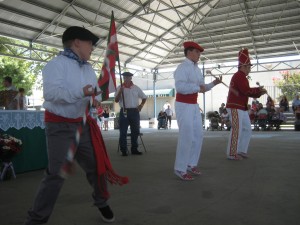 In the evening, the Dave Miron band played oldies for the crowd, but during breaks, musicians from the Basque Country who are teaching at the camp, played traditional Basque tunes that had everyone dancing.
Visit the Southern California Basque Club website to see old photos of previous dance exhibitions.
The website also has an enjoyable video of the Jaureguy and Arambel sheep camp, which includes men castrating the sheep with their teeth and cooking up the testicles!