Ballet Interpretation of Basque Culture at Jaialdi 2010
Boise's Trey McIntyre Project will present one of the more interesting artistic performances at Jaialdi 2010.

The international dance company will be showcasing its rendition of Basque culture during the gala Festa'ra Friday July 30 at the Morrison Center for the Performing Arts at Boise State University. The Festa'ra will feature a night of dance and cultural performances as the huge festival swings into high gear.
Jaialdi is held in Boise every five years to celebrate all things Basque and is expected to attract 20,000 or more people from Basque communities in the United States, Canada, Latin America and Europe.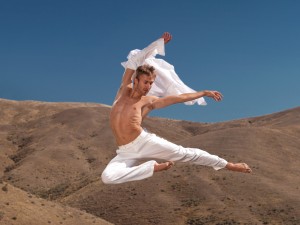 The Trey McIntyre Project has performed across the U.S. and overseas and is known for incorporating a wide of range of music into its performances, including jazz and Native American Blackfoot music. The group has featured interpretive dances on topics ranging from rock opera to the Beatles. The artistic director is Trey McIntyre, who has won grants from the National Endowment for the Arts and has choreographed dances for the New York City Ballet and the American Ballet Theater.
The dance company, which moved to Boise from New York City in 2008, is looking forward to producing a rendition dedicated to the unique Basque culture, said executive director and dancer John Michael Schert.
"It's a culture we've really come to respect and love," Schert said in a recent interview with Euskal Kazeta. "This new Basque work is very exciting for us as a company."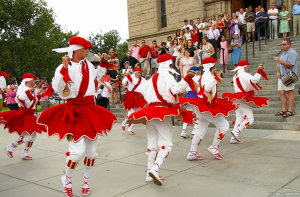 Boise Mayor Dave Bieter recently named the Trey McIntyre Project as the city's cultural ambassador and announced a $25,000 grant to help finance the Jaialdi show. Schert said the dance group is raising an additional $100,000 needed to pay for costumes and other production expenses.
As they prepare for their performance, dancers from the company have been taking weekly lessons from Boise's renowned Oinkari Basque Dancers.
The sessions have helped the Trey McIntyre dancers familiarize themselves with the style of traditional Basque dances. A number of the foot movements, Schert says, are similar to those used in ballet. But he noted that the dance company will be performing an interpretation that will differ markedly from the routines performed by the Oinkaris and other Basque dance groups.
View
Jaialdi 2010
in a larger map
JAIALDI 2010 INTERACTIVE MAP
"For us," Schert says, "it's about the inspiration of this culture."
After Jaialdi, the dance company plans to perform its Basque interpretation at several shows in Massachusetts and the Basque Country.
Related Euskal Kazeta Jaialdi 2010 articles:
Countdown to Jaialdi
Oinkari Dancers Plan Jaialdi Reunion
Jaialdi 2010 Tickets on Sale
Pelota Takes Center Stage at Jaialdi
Boise Hotels Filling Up