Basque Village at the Los Angeles County Fair
Basque culture will be in the spotlight at the Los Angeles County Fair Sept. 16, 17 and 18. The Basque Village is a weekend-long exhibition of food, song, dance and merchandise.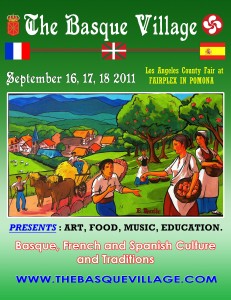 The event is being organized by Evelyne Ustarroz, a public relations specialist and event planner in Los Angeles, working with William Lomas of Pageantry Productions.
Ustarroz said she had the idea for an event like the Basque Village for a couple of years and the county fair gave her the opportunity to bring it to life.
The Basque Village will include Basque folk dancing by the Chino group Gauden Bat and booths by several vendors including Normandie Bakery. Gateaux Basque will also be on sale. The dance group will perform on Friday at 6 p.m. and Saturday and Sunday at 12 p.m. and 3 p.m.
Ustarroz is using the event to showcase not only the Basque culture, but also the French and Spanish cultures which heavily influence the Basque Country. For example, food vendors will be selling paella, tapas and pastries such as Napoleons and éclairs. French can can and flamenco dancers will also perform. Author Ana Luisa Etchalus will present her book Alma Basca.
The Basque Village will be held in the Festival Plaza of the Pomona Fairplex, and entrance is included in the fair admission price.The Festival Plaza is located between Entrance 1 and 2. The Pomona Fairplex is at 1101 W. McKinley Ave. in Pomona. For fair information, call (909) 623-3111