Basques – Make Sure You're Counted in the Census
With Census forms arriving in the mail, members of the Seattle Basque Club are reminding everyone to stand up and be counted. Make sure you let the government know you are Basque.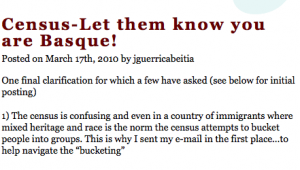 The club has listed some tips on its website to help you fill out the form. Click here for more information.
The Census is conducted every 10 years and is used by government officials and researchers for everything from allocating funds to local governments to studying different racial and ethnic groups across the country.
According to the 2000 Census, there were 57,793 Americans of full or partial Basque descent. The states with the largest Basque-American populations were California with 20,868, Idaho with 6,637 and Nevada with 6,096. Washington had 2,665 people of Basque descent, followed by Oregon with 2,627.
Visit the NABO website for more information on Basques and the 2000 Census.
The Census Bureau says the 2010 form is one of the shortest in U.S. history, with just 10 questions. To find out more about why the Census is important, click here.