Culture Galore during Chino Basque Club Picnic Weekend
The Chino Basque Club will be hosting a weekend of culture, great food and musical performances as part of its annual festival that begins Friday, Sept. 4 with a concert in Claremont.
The concert will be held at the Claremont Forum, 586 W. 1st St. in Claremont (map) and will feature the local singing group Noka, as well as Jean-Louis Laka and Mixel Xalbador. Tapas and wine will be served at the event, scheduled from 7 p.m. to 9 p.m. Mike Bidart will be moderating. Tickets are $25. For information, call Begoña at (909) 465-5861.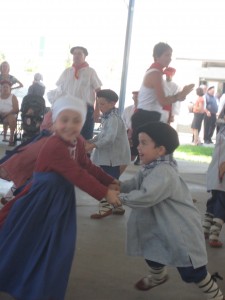 On Saturday, there will be a dinner and dance starting at 6:30 p.m. at the Chino Basque Club, 15181 Sierra Bonita in Chino. The next day, the picnic begins at 10:30 with a traditional Basque Mass at the Chino Fairgrounds, at the corner of Central and Edison Avenues. The service will be followed by a barbecued steak lunch and entertainment from the Klika and Chino dance groups.
A dinner of barbecued lamb will be served at 6 p.m. Chorizo sandwiches will also be available. The evening will feature live music by a Basque Country band and dancing.
The festivities will conclude Monday morning with a Basque breakfast at the Centro Basco restaurant, 13432 Central Ave. in Chino.
See the Chino Basque Club website for information on local accomodations and directions to the club.