Dancing is the Highlight at Chino Picnic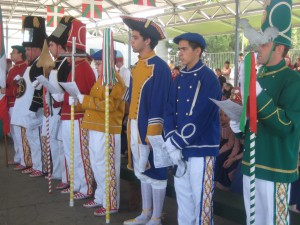 By Nancy Zubiri
The Chino Basque Club annual picnic on Sunday, Sept. 6 was a showcase for Basque folk dancing, with exceptional performances from youth of all ages.
Chino has so many young dancers that it boasts of four dance groups, and its male teens are part of a fifth group that also includes boys from Bakersfield. The groups include dancers ranging from age four up through young adults. (See Euskal Kazeta's video of the dancing.)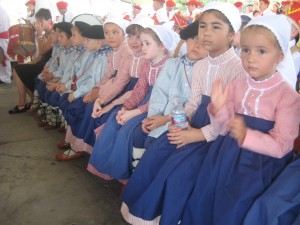 Part of the expertise shown by dancers on the pavilion this past weekend may have been due to their two-week stint in Udaleku, the Basque summer camp held in Chino this year. During the camp, in which they learned about Basque culture, language and sports, the youngsters practiced several Basque dances. Most of the Chino dancers participated in the camp, according to dance director Maite Maisterrena. The annual camp accepts youngsters from age 10 to 16.
The picnic Sunday included the traditional barbecue steak lunch, a barbecue lamb dinner and lukainka (sausage) sandwiches in the evening. The day started with the Basque mass, celebrated by Basque priest Javier Altuna of Inglewood, and the Besta Berri tradition, under the guidance of John Ysursa, a longtime religious procession carried out in Iparralde that includes numerous characters like the zapurrak (bear men), makilari, and bandelariak, carrying the flags. For a detailed explanation of the celebration, see John Ysursa's article.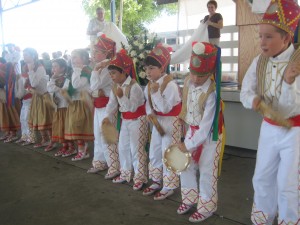 [/caption]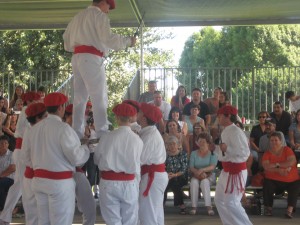 The setting for the picnic, the Chino Fairgrounds, is much more enjoyable than previous years because of a metal roof built over the cement plaza last year that shades the audience. In the past, picnic-goers had to sit in the hot sun to watch the dancing. Temperatures typically hit over 100 degrees for the Labor Day weekend event. This year the high was 93.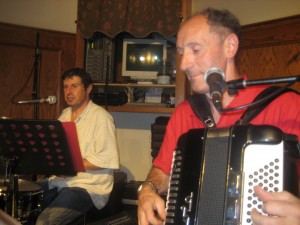 The festivities started on Friday night, when two well-known bertsolaris from the Basque Country, Jean-Louis Laka and Mixel Xalbador, performed on Friday night at the Claremont Forum. Local resident Mike Bidart moderated the evening, providing translation of their impromptu Basque verses. Noka, a Chino group of three women, Begoña Echeverria, Andrea Bidart and Maite Maisterrena, sang a capella for the audience, who also enjoyed pintxos and wine.

Saturday night the Chino Basque Club hosted a dance at their clubhouse with accordionist Jean Louis Bergara, who played with drummer Michel Violet. Steve Gamboa served up delicious bacon sandwiches, tortilla de patatas and chorizo. Many young Chino dancers participated, enjoying the traditional Basque dances played by the musicians from the Basque Country.