Gauden Bat Shares Basque Culture at L.A. County Fair
The Gauden Bat dancers helped spread Basque culture this weekend during performances that were well-received by audiences at the Los Angeles County Fair.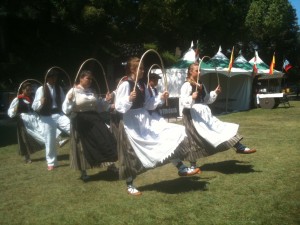 The Chino-based group, whose name means "Let Us Be One" in Euskera, gave multiple performances on Saturday and Sunday at the fair's Basque Village.
The cultural exhibition was organized by Evelyne Ustarroz, a public relations specialist and event planner in Los Angeles, working with William Lomas of Pageantry Productions.
Related Euskal Kazeta Reports:
Basque Village at the L.A. County Fair
Gauden Bat Holds Annual Fundraising Dinner
Ustarroz, who is Basque, wore a red scarf and matching espadrilles as she greeted guests Sunday at the Basque Village. The event helped showcase Basque culture on a huge stage. The fair is one the biggest in the United States and last year attracted more than 1 million visitors.
The audiences clapped to the music as Gauden Bat's dancers performed the jota and other traditional Basque dances. The group's next performance is Sunday Oct. 2 at the annual picnic hosted by the Lagun Onak Las Vegas Basque Club.