Jaialdi 2010 Organizers Seek Event Sponsors
This is one in a series of Euskal Kazeta reports leading up to Jaialdi 2010.
Organizers of Jaialdi 2010 are looking for sponsors for several marquee events to be held this summer at the international Basque festival.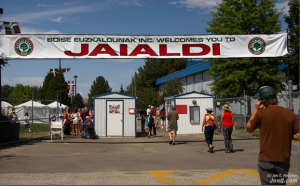 The huge festival will be held in Boise from July 28 to Aug. 1, 2010. Organizers are looking for sponsors for the following events:
• Sports Night
• Basque Block Party
• Festa'ra
• Jaialdi at Expo Idaho
• Souvenir Book
Those interested in becoming a sponsor can find more information on the Jaialdi web page.
Most of the Jaialdi activities will be held at the sprawling Expo Idaho center, just outside of Boise. Other events will be held on the Basque block, home to the Basque Museum and Cultural Center, Basque Center and restaurants.
About 25,000 festival-goers from Basque communities in the United States, Latin America and the Basque Country are expected to descend on Boise for the week-long celebration. (For links to festival venues, restaurants, hotels and information on group rates, check out Euskal Kazeta's interactive Jaialdi map.)
Among the festival events will be a special dance performance featuring current and former members of Boise's Oinkari Basque Dancers.
Click here for more Jon C. Hodgson photos of Jaialdi 2005.