Jaialdi 2010 sports, cultural events already scheduled (Updated 11-18-09)
This is one in a series of Euskal Kazeta reports leading up to Jaialdi 2010.

View Jaialdi 2010 in a larger map
Click on the blue "Jaialdi 2010" link above to view locations of Jaialdi 2010 venues and hotels. Click on hotel icons for information about Jaialdi group rates and links to hotel web pages.
Visitors to next summer's Jaialdi 2010 Basque Festival will be able to enjoy a host of events at sites across Boise including a sports night, dance exhibitions, a sprawling food court and huge gatherings on the Basque Block.
The city will be the site of all things Basque as an expected 25,000 or more people saturate the area during the week of July 28 to August 1. Some of the festival activities were detailed in a recent letter by Jaialdi organizers seeking sponsors for the events. Interested people can check out the Jaialdi web page for sponsorship details and download a copy of the application. Festival organizers also have released a full schedule of events.
A Sports Night is scheduled for Wednesday, July 28, at the Qwest Arena. Competitors will show off their athletic prowess with wood chopping, weight lifting and tug-o-war competitions, among other feats. The following day, on July 29, several thousand festival-goers are expected to descend on the Basque Block for what will likely become a massive street party.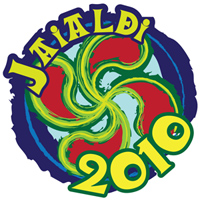 A number of events will be held at the huge Expo Idaho center. But others will be held elsewhere. A Festa'ra, showcasing Basque music and dance, is scheduled for Friday July 30 at the Morrison Center for the Performing Arts, on the campus of Boise State University. A Catholic Mass is scheduled the next day at St. John's Cathedral.
As usual, the Idaho Expo center will be buzzing with activity. Dancers from more than 36 groups from states across the West and musicians will perform on two different stages on Saturday July 31. And visitors will be able to enjoy home-cooked Basque cuisine at a food court that will sprawl across more than a half acre of the center. Later that night on July 31, Boise-based Amuma Says No will headline a night of music and dance.
People can keep track of the festival or share thoughts with each other on the Jaialdi 2010 Facebook page. A Jaialdi 2010 Twitter account has also been created.
Jaialdi is a word in Euskara, or the Basque language, referring to a festival of music and dancing. The festival, which started in Boise in 1987, has become a regular event that is held every five years.
Visitors are encouraged to book hotel rooms as soon as possible. Make sure to see if the hotel offers a Jaialdi group rate.
Here is the full Jaialdi Schedule.