The men from Team USA scored victories Wednesday in handball and pala corta as the competition heated up at the World Championships of Pelota in France.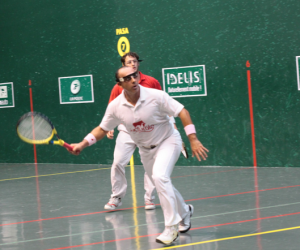 In 36-meter action, Tony Huarte of the United States upset veteran Julien Ectheverry of France with a strong surge at the end of the contest. The final score was 22 to 17.
Team USA members Jose Huarte and Gratien Etchebehere Jr. came out on top in their 36-meter pala corta match with a powerful performance against Chile. The U.S. men trounced the Chileans 35 to 5.
Later Wednesday, Team USA's Roger Etchevers, who has won two singles handball matches, is scheduled to play in a quarter-final trinquete battle against Venezuela. (UPDATED: Etchevers beat Arozena of Venezuela 40 to 18. He now advances to the semifinals, where he will be in a position to win a medal).
For tournament analysis and comments, see the FaceBook page of the United States Federation of Pelota.
Etchebehere is one of seven athletes from the Basque Cultural Center in South San Francisco who are representing the U.S. at the huge tournament. The championship event, sponsored every four years by the International Federation of Basque Pelota, features more than 500 athletes from 22 countries seeking medals in more than two dozen pelota specialties.
(UPDATED: Late Wednesday, Team USA members D. Delgado and Arroyo lost a 30-meter frontenis match to Cuba 18 to 30.)
Wednesday's tournament action featured close contests that propelled several teams into contention for winning medals.
The men from Spain beat France in an emotional 36-meter paleta cuero match that was tight to the end. The score: 35 to 32.
Venezuela beat Cuba 35 to 34 in a great palata corta battle on the 36-meter court. With their win, the Venezuelans qualified for the first time for a Class C paleta corta semifinals slot.
In doubles handball, Mexico will play France Friday in a semifinals match-up on the 36-meter court. The other semifinal will feature Spain and Venezuela.
Click on the following link for Team USA's Schedule
For complete tournament results, click on the following FIPV website.
And for great pelota photos, check out the FIPV Flickr stream
The video below is a paleta goma match between Spain and Argentina: