A Visit to Piperade Restaurant in San Francisco
As the editor of Euskal Kazeta, I had written about acclaimed Basque chef Gerald Hirigoyen and his restaurant Piperade several times over the years. I had always wanted to dine there, but since I live in Los Angeles, there were not many opportunities to visit Piperade. Until last night.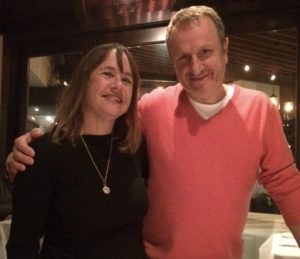 I was meeting two childhood friends who I had not seen in more than 30 years. We grew up in San Francisco, in the Excelsior neighborhood. During dinner, my girlfriends Lili and Mary and I joked about how "unremarkable" a neighborhood it was, despite being in one of the most famous cities in the world. Our one claim to fame was that most of the streets were named after cities and countries in Europe – Vienna, Naples, Russia, Edinburgh, etc. So when we planned our reunion, we knew it had to be in The City and I chose Piperade.
From the beginning, our visit to Piperade was extraordinary. Our waiter, Igor Asua, who hails from San Sebastian, gave me a special welcome, acknowledging he was familiar with my book Travel Guide to Basque America.
Sometimes you walk into Basque restaurants and sense more of a French or Spanish influence in the décor or menu. Not at Hirigoyen's place. The menu, the wine list and the artwork were overwhelmingly Basque-themed.
We ordered some of the specials – foie gras as an appetizer and I chose Alaskan halibut as an entrée. Everything was melt-in-your-mouth delicious. A short while later, Gerald appeared at our table.
It was great to finally meet him.
He was delightful and down to earth. We chatted and I teased him about the cute online commercial he did for Volkswagen a few years ago.
Gerald came by again to say goodbye as he left for the evening. Afterward, Igor brought us a plate of desserts and a little dessert wine–compliments of the chef! Gateau basque, flan, dark chocolate "Amatxi" cake and more – every one was delicious.
My girlfriends and I had 30 years of memories to catch up on, so we ended up closing the place down.
The experience was all that I had imagined—and more. I left satisfied that I had finally visited Piperade and met its renowned chef.
Piperade
1015 Battery St.
San Francisco, Calif.
MORE FROM EUSKAL KAZETA: Basque restaurants in Northern California