Etchevers of Team USA Wins Match at World Championships of Pelota (Updated)
Roger Etchevers of the United States soundly defeated his Cuban opponent in singles handball Tuesday during an action-packed day at the World Championships of Pelota in France.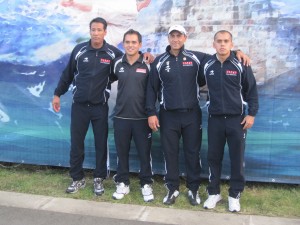 The 40 to 14 win by Etchevers continued his strong performance at the international tournament. On Friday, he defeated a rival from Argentina 40 to 11 in trinquete singles handball.
On the 36-meter court, the Team USA pala corta duo of Gratien Etchebehere Jr. and David Indart lost to Cuba by a score of 9 to 40. The two men are from the Basque Cultural Center in South San Francisco.
In other action Tuesday, Team USA men were beaten by strong squads from France and Spain. The U.S. women paleta goma players were scheduled to battle Uruguay in a trinquete match late Tuesday. (Updated: The U.S. duo of Mireille Acheritogaray and Izoco lost to Uruguay 8 -30.)
On Tuesday, Team USA members Indart and Jose Huarte played tough against a strong Venezuelan sqaud in paleta cuero. But in the end, the U.S. men lost the 36-meter match by a score of 24 to 35.
On the 30-meter court, Inlestra and D. Delgado from Team USA lost a men's frontenis match to France 22 to 30. And in doubles handball, Roberto Huarte of the U.S. and teammate De Luz were beaten soundly by Spain. The score was 22 to 1 in the 36-meter match.
In other key tournament action Tuesday, the women's paleta goma team from Spain beat Mexico 30 to 19.
With their win, the women from Spain qualify for the paleta goma semi-finals match on Thursday against the winner of the Uruguay-Mexico match. Spain has also qualified for the semifinals in men's 36-meter pala corta.
The tournament, sponsored every four years by the International Federation of Basque Pelota, features more than 500 athletes from 22 countries seeking medals in more than two dozen pelota specialties.
For complete results, click on the following web page of the International Federation of Basque Pelota.
For analysis and updates on the championship action, check out the FaceBook page of the United States Federation of Pelota.
Click on the following link for Team USA's Schedule