How to Make Basque Garlic Soup – Baratxuri Salda
When I prepare this rustic soup and smell the garlic, I'm transported back to the Basque Country where I enjoyed this wonderful salda or soup. After the local town Besta or festival, all the town's folk joined together in a hall where we were served this flavorful after-party soup.
I was anxious to make it myself having watched my Amatchi Catherine, my maternal grandmother who was a humble cook, prepare it. She was often surprised when people loved her cooking. She had a special way of taking ordinary ingredients and creating heart-warming and fulfilling meals fit for royalty. We felt like kings and queens too.
This recipe is simple and fun to make. It's popular with everyone, not just garlic lovers. You can whip it up in about 40 minutes. Your senses will be heightened as your nose tells your mind that you are in for a special treat. And your tastebuds dance the jota while your stomach does culinary somersaults.
If you're new to this recipe, it will most likely become part of your favorites to prepare. Start your own traditions today among friends and family and take a Basque journey into a rich cultural delight.
BASQUE GARLIC SOUP
PREP TIME: 10 minutes
TOTAL TIME: 40 minutes
Makes 6 cups and serves 4-6 people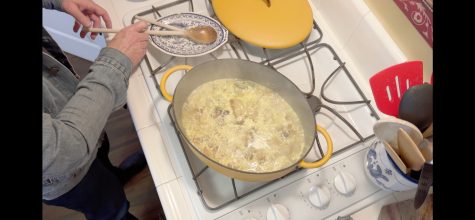 Ingredients
Use the highest quality olive oil for the best flavor. Spanish olive oil has a nice bite, adding to this rustic soup. If you don't have stale bread, make sure to cut it into small pieces and broil it in the oven beforehand.
1/4 cup extra-virgin olive oil, preferably Spanish
10-12 garlic cloves, mashed into paste with 1 tsp. coarse salt
2 cups bite-size pieces of stale sourdough crusty bread
6 cups low-sodium store bought chicken stock or broth
3 large eggs, beaten until smooth
1 or 2 bay leaves
coarse salt and freshly ground pepper
parsley leaves for garnish
Instructions
Heat the oil in a large saucepan over medium-low heat until hot without smoking it. Add garlic paste; cook it 10 minutes while stirring occasionally until you bring out the garlic fragrance but not without browning it.
Add bread, and stir to coat. Stir in the stock or broth and add bay leaf; season it to your taste with salt and pepper. Bring it to a boil. Reduce heat; simmer for 10 minutes.
Discard bay leaf. Stir in the eggs. Cook, stirring occasionally to break up eggs, for 10 minutes. Serve soup garnished with parsley leaves.